Yea boi. Boi. Yea. What. It's 2009. Word.

The very first end tag of the show in the Season One episode "Spanish 101" featured Troy and Abed performing an impromptu rap in Spanish. When translated, the rap does not make sense and simply consists of Spanish vocabulary words. In the end tag to "Debate 109", Abed is directing another one of his short films, "The Community College Chronicles" based on the study group. With Troy's help, he is trying to film their counterparts on the show doing the 101 Rap, but Troy is unsatisfied with their performance.
Song and lyrics
Edit
Lyrics:
Donde, está, la biblioteca.
Me llamo T-Bone La araña discoteca.
Discoteca, muñeca, La biblioteca es en bigote grande, perro, manteca.
Manteca, bigote, gigante, pequeño, cabeza es nieve, cerveza es bueno.
Buenos dias, me gusta papas frías, bigote de la cabra Es Cameron Diaz.
Yea boi. Boi. Yea. What. It's 2009. Word.
Translation
Edit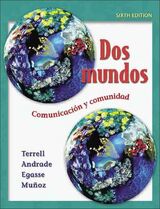 "
Where is the library?

My name is T-Bone, the disco spider.

Disco, doll, the library, is the big mustache, dog, lard.

Lard, mustache, giant, small, head is snow, beer is good.

Good day, I like cold potatoes, the goat's mustache, It's Cameron Diaz.

Yea boi. Boi. Yea. What. It's 2009. Word.

"
In
this interview
, "
Community
" creator Dan Harmon mentioned how he saw
Donald Glover
and
Danny Pudi
hamming it up for reporters during a press junket. He was particularly impressed when he saw them doing an impromptu rap. This led to their characters doing the show's first
end tag
. Picking up on the actors' chemistry, Harmon continued to feature them prominently together in a few more episodes beginning the duo's onscreen bromance.