Anthropology Rap
Comments

0
503pages on
this wiki

It's gonna take a lot to get me away from you! There's nothing that a hundred men or more could ever do!

Troy and Abed perform a rap with Professor June Bauer in the Season Two premiere episode "Anthropology 101". Like the previous "Spanish Rap", this is mostly a nonsensical rap; this time, it is describing the scientific classification of human beings instead of random Spanish words. The refrain of the song is from the 1982 hit single "Africa" by the American rock band Toto. It is sung by Professor Bauer played by guest star Betty White.
Song and lyrics
Edit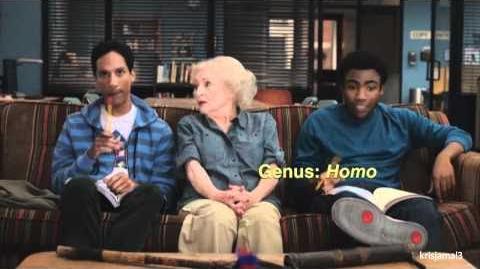 Lyrics
Kingdom: Animalia, Phylum: Chordata,
The class is Mammalia 'cause boobies, we got 'em.
Order is Primate, Family: Hominidae,
The genus is Homo, but you know you're into me,
'Cause I am in a species known as Sapien,
Dogs used to eat me, but now they bring the paper in.
It's gonna take a lot to get me away from you (Damn, damn)
There's nothing that a hundred men or more could ever do (S-S-Sapien)
I bless the rains down in Africa, (Oh, bless the rains)
I bless the rains down in Africa,
I bless the rains down in Africa. (Africa)