| | |
| --- | --- |
| In Anthropology class, Annie finishes giving her presentation for the final exams. Duncan awards not only her but also the other students a passing grade. When Annie objects saying it's not fair to the students who actually put in the effort, Duncan orders the class to throw paper balls at her until she sits down. He pours himself a glass of scotch and makes a toast to Greendale. The students follow suit and join him, drinking their own alcoholic beverages they brought to class. He notices Shirley isn't participating, unaware that she is pregnant. Chang reiterates that he could be the father which Shirley refuses to acknowledge as a possibility. Duncan then tries to lead them all into another round of drinking but is interrupted when the Dean walks in with a reporter for Dean Magazine who is touring the campus to write a piece about Pelton. | |
| | |
| --- | --- |
| Professor Duncan makes an excuse and abandons the class to avoid being around when Dean Pelton discovers the class is a fake. Shirley starts to feel contractions but passes it off as indigestion, asserting that it's too early because her first two sons went full term. Chang notes that Chang babies are always born early. When Shirley sips antacid Britta objects and suggests "natural" but unappealing alternatives. Over Shirley's objections, Britta shares more advice about natural childbirth. Jeff steps in to tell Britta to back off and they continue to argue, unaware of Shirley's increasing physical discomfort. Shirley begins to walk away but her water breaks in the middle of the classroom. | |
| | |
| --- | --- |
| Shirley is led to the open space at the front of the classroom and Dean Pelton panics, trying to take control of the situation but unsure how to proceed in front of the Dean Magazine writer. He decides to get his car in order to drive Shirley to the hospital. Much to Shirley's dismay, Chang shares that Chang babies are always born in unusual locations. As things progress, Britta has a hard time handling the reality of childbirth and accepts the responsibility of summoning Shirley's husband, Andre. Pierce witnesses Troy and Abed do their signature handshake and offers them $1000 to let him in on the fun. They pass it off as a joke but agree when Pierce presses the issue. He then forces them to abuse the handshake with him which leaves them feeling dirty. They soon discover that the magic of the handshake is gone. Pierce gloats that he hated the handshake and now it's gone, explaining that once you sell something out, you can't get it back. | |
| | |
| --- | --- |
| The Dean returns and announces that the world food festival has turned into a "race kerfuffle" in the parking lot, leaving Shirley stuck on campus as even ambulances are unable to get through. Abed reveals a surprising aptitude and knowledge regarding child delivery and takes charge of the situation. However, when he moves to check the progress of the baby Shirley refuses to let him see her "nethers." Eager to prove she is up to the task, Britta peeks under Shirley's skirt but is again unable to deal with the perfectly natural process and vomits into a trashcan. | |
| | |
| --- | --- |
| Abed tells Annie that she now has to deliver the baby but she has a panic attack at the prospect. Dean Pelton then steps up to the plate but turns out to be worse than useless. In desperation, Shirley calls for Chang and finds his stories of unconventional Chang baby births oddly comforting. After a pep talk from Jeff, a newly resolved Britta returns to finish what she started. Abed coaches her as she settles between Shirley's legs. The group begins to cheer Shirley with chants of "Push," while Chang regales her with more Chang baby tales. | |
| | |
| --- | --- |
| Andre arrives with the paramedics to help her through the final stage of delivery and Britta rebuffs one of the paramedics as he attempts to take over. Shirley gives birth to a boy, which is clearly Andre's. Grateful for Chang's help during the birth, Shirley names the baby "Ben" after him. Troy and Abed celebrate the moment with their handshake and discover that the magic was inside them all along. After these exciting events, the reporter says to expect a cover story and Pelton is overjoyed when the reporter agrees that the article will showcase him as a good Dean. Unfortunately, Dean Magazine is forced to shut down after only two issues. | |
Troy and Abed pull the fire alarm because they will fail their test, only to discover it is a fake. Dean Pelton shows up and agrees to cancel the day's classes if they'll keep it a secret.
Recurring themes
Edit
That just happened:
Anticlimax: Shirley gives birth, and the father of the baby is revealed to be Andre.
A nice gesture: Troy and Abed sell their signature handshake to Pierce, temporarily ruining it for themselves. They rediscover its joy after Ben is born and perform an extended version of it in celebration.
Returning students: Fat Neil, Vicki, Star-Burns
Googly eyes: The chemistry between Fat Neil and Vicki is obvious enough that even Pierce notices it.
Discontinuity: When Troy and Abed attempt to do their handshake after selling it to Pierce, Troy's money switches hands between camera cuts.
Magic 8-Ball: Neil and Vicki do end up dating in Season Three.
Express tuition aisle: Instead of a final exam, Duncan and the students spend the time drinking.
Thrown Together: Annie gets hit with a barrage after she objects that Professor Duncan shares her good grade with the whole class.
Annie's boobs: Annie objects when a paper ball strikes her in the chest.
Raging against the machine: Britta offers unwelcome advice about natural childbirth and celebrates the connection women have with their bodies and children during pregnancy.
Come Sail Away: Troy cries after Pierce forces him to do his special handshake.
Rhyme Time: "No probl-O, Rob Lowe" - Britta
You're the worst: Britta despairs at her inability to help Shirley.
Like an evil genie: Duncan's toast "Here's to never telling the dean" is immediately followed by the dean entering the class room.
IRL: Britta having a booger seems to be a nod to actress Gillian Jacobs habit of asking if her nasal passages are clear between shots which can be seen in the outtakes.
Homage: The scene when Britta looks under Shirely's skirt pays homage to Eraserhead  (solid black background and droning music) which deals with the strugles parenthood. Britta's line "Are you saying I'll be a good mom?" is a reference to Mary X who is a horrible mother.
Reception
Edit
Critical reaction
Edit

Reviews:
The ratings were slightly up (10%) from the previous Community episode: 1.5 and 3.589 million viewers.
Promotional photos
Edit
Behind the scenes video
Edit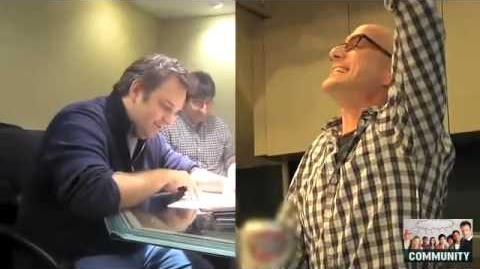 "Nothing can stop us. Not the hurricanes, not the communists, not the feds, not the girl scouts."— Ben Chang about Chang babies.
"On each contraction, you need to tell Shirley to push."— Abed
"That's it?"— Britta
"Well, don't tell any doctors I said this but at this point in time the bus pretty much drives itself."— Abed
"Who exactly is the bus in this scenario?"— Shirley
"Congratulations, sir. After a fierce campaign, I happily concede this baby to you. Pretty classy of me."— Chang