Ad blocker interference detected!
Wikia is a free-to-use site that makes money from advertising. We have a modified experience for viewers using ad blockers

Wikia is not accessible if you've made further modifications. Remove the custom ad blocker rule(s) and the page will load as expected.

I prefer "As I Lay Me Down".

In the study group's fourth year at Greendale, Britta organized a dance at school protesting with what she considered to be an anti-feminst Sadie Hawkins dance organized by Dean Pelton. She proclaimed her dance to be named after who she mistook to be a historical leader in the American Women's Right's movement, Sophie B. Hawkins. Even after being corrected by the study group that she meant Susan B. Anthony, she decided to go ahead with her plans due to Jeff ridiculing her. Despite numerous attempts, Britta was unsuccessful in trying to get Sophie to perform at the dance. Unknown to Britta, Pierce knew Sophie personally from the time Hawthorne Wipes sponsored Lilith Fair. He took pity on Britta and arranged to have Sophie and her band show up to the dance at the last minute. After performing her popular single "Damn I Wish I Was Your Lover" she then played "As I Lay Me Down" from her album "Whaler". It was first heard sung by the artist herself in the Season Four episode "Herstory of Dance" .
The song with lyrics
Edit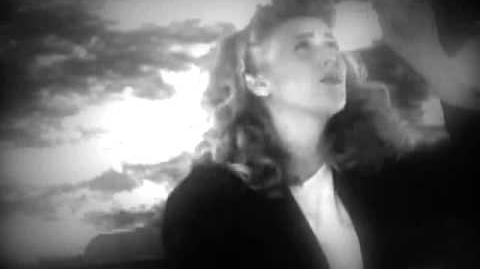 Lyrics:
It felt like spring time on this February morning
In a courtyard birds were singing your praise
I'm still recalling things you said to make me feel alright
I carried them with me today
Now
As I lay me down to sleep
This I pray
That you will hold me dear
Though I'm far away
I'll whisper your name into the sky
And I will wake up happy
I wonder why I feel so high
Though I am not above the sorrow
Heavy hearted
Till you call my name
And it sounds like church bells
Or the whistle of a train
On a summer evening
I'll run to meet you
Barefoot, barely breathing
As I lay me down to sleep (ooh la kah koh)
This I pray
That you will hold me dear
Though I'm far away
I'll whisper your name into the sky (ooh la kah koh)
And I will wake up happy
Oh, darling
As I lay me down to sleep (ooh la kah koh)
This I pray
That you will hold me dear
Though I'm far away
I'll whisper your name into the sky (ooh la kah koh)
And I will wake up happy
It's not too near for me
Like a flower I need the rain
Though it's not clear to me
Every season has it's change
And I will see you
When the sun comes out again
As I lay me down to sleep (ooh la kah koh)
This I pray
That you will hold me dear
Though I'm far away
I'll whisper your name into the sky (ooh la kah koh)
And I will wake up happy
As I lay me down to sleep (ooh la kah koh)
This I pray
That you will hold me dear
Though I'm far away
I'll whisper your name into the sky (ooh la kah koh)
And I will wake up happy
I wonder why (ooh la kah koh)
when the sun comes out again (ooh la kah koh)
when the sun comes out again
when the sun comes out again
when the sun comes out again oh
when the sun comes out again
when the sun comes out again mmh (ooh la kah koh)
I will wake up happy (ooh la kah koh)
This I pray
...
(ooh la kah koh)
| | |
| --- | --- |
| "As I Lay Me Down" is one of Sophie B. Hawkins best known songs which came from from her 1995 album Whaler. It was the second release from the album which followed the lackluster commercial reaction to her single "Right Beside You". Hawkins took to touring the country with an acoustic piano to promote this song, after which time it took off in the charts. It managed to find a niche place on the Top 40 and Adult Contemporary music charts among the more popular rap and grunge songs of that era. It also was featured in TV shows such as "Dawson's Creek" and in the movie "Now and Then". Sophie mentioned in the 1997 documentary "The Cream Will Rise" that she wrote the song in honor of her father. | |