Buddy Austin
Comment

1
449pages on
this wiki
Redirected from Buddy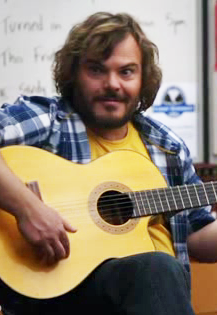 BUDDY AUSTIN
PORTRAYED BY: JACK BLACK
AGE / BIRTHDATE: UNKNOWN
HOMETOWN: RIVERSIDE, COLORADO
MAJOR: EVENT PLANNING
OCCUPATION: UNKNOWN
FIRST APPEARANCE: "Investigative Journalism"
QUOTE: "Spanish studyin' is better when your Buddy-in a-a-a-round Y-E-E-A-A-H!"
- Buddy, "Investigative Journalism"

Buddy is a student at Greendale who attempted to join the study group during their first year attending the school. He is known for being an "agile fat guy" and also for his tasty lemon squares. His first and only appearance was in the Season One epsiode "Investigative Journalism". He is portrayed by actor/comedian Jack Black.

Investigative Journalism
Edit
In the study group's first year at school together, they return after Winter break and are surprised after noticing another student had snuck into their return meeting. Introducing himself as Buddy, he tells them that he is in their Spanish class but no one recognizes him except for Abed. He remembers that he sat in the back of class and Buddy explains he has a tendency to blend into the background. While they might not remember him he explains that he is familiar with them having watched them grow closer together the past semester. He references Jeff and Pierce's Spanish presentation, Britta's announcement that she cheated on a Spanish test, and Britta and Annie's cat fight in a pool of whipped cream. After Britta questions his last memory, he then admits it was a daydream he had. The group starts to become uncomfortable with him present and Buddy efforts to diffuse the awkwardness makes it worse. He states that he is already familiar with the group and would like to join them. After a lot of whining, the group decides to let Buddy in. Little did they know that they were his back up plan in case he was not accepted into his new study group, which is made up of him, Owen Wilson, Star-Burns, and an Asian girl. He was never seen again.
Jack Black interview
Edit