Chang's moped
Comments

0
504pages on
this wiki
"
Give it up, Winger! Professor Slater doesn't date students...or married Asians who drive around on mopeds.
"
Ben Chang's main method of transportation in Season One was a grey motor scooter. Chang would often drive around Greendale at fast speeds with little regard for the safety of other people on campus. It was first seen in the episode "Introduction to Statistics" and last seen in "Beginner Pottery".
Chang's moped is introduced in the study group's first year at school. He is bribed by Jeff to let him accompany Chang to the faculty Halloween party so he could hit on Professor Slater who was attending the event. Chang transports him to the event on his moped at breakneck speed and is annoyed when Jeff asks him to slow down. Afterwards, Jeff is successful in wooing Slater but is forced to cancel his plans with her because he needed to help Pierce who was tripping out on drugs he had taken at the party. Chang sees this happen and as he drives by on his moped calls Jeff a loser ("Introduction to Statistics"). After Winter Break, Chang fools his students at the start of Spanish 102 into believing he died over winter break after he supposedly slammed his Vespa into an Arby's ("Investigative Journalism"). On Valentines Day, Chang forces Troy and Pierce to wear lady pants suits and escort him to the Valentine's Day dance at school. Afterwards, Chang invites Pierce to get frozen yogurt with him, and they leave on his moped much to Troy's disappointment ("Communication Studies"). Near the end of the school year it makes it's final appearance when Chang pulls into the school parking lot and Pierce is occupying his reserved spot having just fallen off the S.S.Nose Candy during Sailing class ("Beginner Pottery"). A very similar looking moped (now correctly called a Vespa) is shown in the study group's Season Four fourth year at Greendale. It was driven by a potential student named Archie DeCoste whose wealthy family the school hoped would contribute to the school's coffers. This Vespa is painted a slightly different color and is decorated with City College decals. Archie reveals it was a gift from that school as they were also looking to recruit him as well ("Economics of Marine Biology").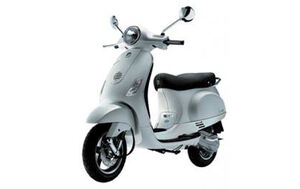 Although repeatedly referred to on the show as a moped, it was technically a Vespa manufactured by the Italian vehicle manufacturer
Piaggio
. Specifically Chang's scooter was a
Vespa LXV 125
, a model from the 2006 Vespa series. Originally created in 1977, it continued to be sold until the brand was was retired in 2007. It was then revived in 2010 and the engine was modified to meet emission standards.