Ad blocker interference detected!
Wikia is a free-to-use site that makes money from advertising. We have a modified experience for viewers using ad blockers

Wikia is not accessible if you've made further modifications. Remove the custom ad blocker rule(s) and the page will load as expected.

All Access Pass
Chevy Chase
Full name:
Corneilius Crane Chase
Birth date:
October 8, 1943
Home town:
Woodstock, New York
Occupation:
Actor, comedian, writer
Also known for:
Saturday Night Live , Caddyshack
Work on Community
Title:
Former Main Cast member
Portrays :
Pierce Hawthorne
Acting debut:
Pilot
Active on Community:
2009-2014

"The hours are hideous, and it's still a sitcom on television, which is probably the lowest form of television. That's my feeling about it. I think the reason I have stuck around is because I love these kids, the cast — they are very good. It's not like I am working with the great innovators of all time.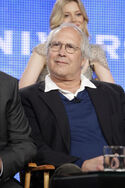 Chevy Chase
is the American actor and comedian best known for his work on "
Saturday Night Live
", the
National Lampoon's Vacation films
and the 1985 movie "
Fletch
". On
Community
he portrays moist towelette tycoon
Pierce Hawthorne
. On November 21, 2012 it was officially announced that after three and a half seasons Chevy Chase
has left
the show. His departure was effective immediately before the filming of
Season Four
was completed, so he was absent from two Season Four episodes:
Intro to Knots
and
Heroic Origins
. He would later return for a cameo appearance in
Season Five's
Repilot
as a holographic Pierce Hawthorne.
Filmography
Edit
Year
Title
Media
Character
1968
Walk… Don't Walk
Film
Pedestrian
1971
The Great American Dream Machine
TV
Unknown
Columbo
TV
DMV Clerk
1973
Lemmings
Video
Various
1974
The Groove Tube
Film
The Fingers/Geritan/Four Leaf Clover
1975
Saturday Night Live
TV
Various / Host (53 episodes)
1978
Foul Play
Film
Tony Carlson
1980
Oh Heavenly Dog
Film
Browning
Caddyshack
Film
Ty Webb
Smells Like Old Times
Film
Nick Gardenia
1981
Under the Rainbow
Film
Bruce Thorpe
Modern Problems
Film
Max Fielder
1983
Vacation
Film
Clark Griswold
Deal of the Century
Film
Eddie Muntz
1985
Fletch
Film
Irwin "Fletch" Fletcher
European Vacation
Film
Clark Griswold
Sesame Street Presents: Follow that Bird
Film
Newscaster
Spies Like Us
Film
Emmett Fitz-Hume
1986
¡Three Amigos!
Film
Dusty Bottoms
1988
The Couch Trip
Film
Condom Father
Funny Farm
Film
Andy Farmer
Caddyshack II
Film
Ty Webb
1989
Fletch Lives
Film
Irwin "Fletch" Fletcher
Christmas Vacation
Film
Clark Griswold
1991
L.A. Story
Film
Carlo Christopher
Nothing But Trouble
Film
Chris Thorne
1992
Memories of an Invisible Man
Film
Nick Halloway
Hero
Film
Deke
1993
Last Action Hero
Film
Cameo
The Chevy Chase Show
TV
Himself - Host
1994
Cops and Robbersons
Film
Norman Robberson
1995
Man of the House
Film
Jack Sturgess (Squatting Dog)
1997
Vegas Vacation
Film
Clark Griswold
1998
Dirty Work
Film
Dr. Farthing
2000
The One Arm Bandit
Film
Cop/Second man with briefcase
Pete's a Pizza''
Film
Narrator
Snow Day
Film
Tom Brandston
2001
Ellie Parker
Film
Dennis
2002
America's Most Terrible Things
TV Movie
Andy Potts
Vacuums
Film
Mr. Punch
Orange County
Film
Principal Harbert
2003
Freedom: A History of Us
TV
Various (5 episodes)
2004
Mariti in affitto
Film
Paul Parmesan
The Karate Dog
TV Movie
Cho-Cho (voice)
Bad Meat
Film
Congressman Bernard P. Greely
2005
Ellie Parker
Film
Dennis Swartzbaum
2006
Goose on the Loose
Film
Congreve Maddox
Doogal
Film
Train (Voice)
Funny Money
Film
Henry
Zoom: Academy for Superheroes
Film
Dr. Grant
The Secret Policeman's Ball
TV Movie
General Nuisance
Law & Order
TV
Mitch Carroll (1 episode)
2007
Family Guy
TV
Clark Griswold
Cutlass
Film
Stan
Brothers & Sisters
TV
Stan Harris (2 episodes)
2009
Hjälp
TV
Dan Carter (8 episodes)
Stay Cool
Film
Principal Marshall
Chuck
TV
Ted Roark (3 episodes)
Community
TV
Pierce Hawthorne
Jack and the Beanstalk
Film
Not Another Not Another Movie
Film
Max Storm
Hot Tub Time Machine
Film
Year
Ceremony
Award
Result
For
Title
1976
Writers Guild of America, USA
WGA Award (TV)
Nominated
Original Variety
The Smothers Brothers Show
Emmy Awards
Emmy
Won
Outstanding Continuing or Single Performance by a Supporting Actor in Variety or Music
Saturday Night Live
Outstanding Writing in a Comedy-Variety or Music Series
Saturday Night Live
1977
Emmy Awards
Emmy
Nominated
Outstanding Continuing or Single Performance by a Supporting Actor in Variety or Music
Saturday Night Live
Outstanding Writing in a Comedy-Variety or Music Series
Saturday Night Live
1978
Emmy Awards
Emmy
Won
Outstanding Writing in a Comedy-Variety or Music Special
The Paul Simon Special
1979
Golden Globes
Golden Globe
Nominated
Best Motion Picture Acting Debut – Male
Foul Play
Best Motion Picture Actor - Musical/Comedy
Foul Play
1993
Academy of Science Fiction, Fantasy & Horror Films, USA
Saturn Award
Nominated
Best Actor
Memoirs of an Invisible Man
Hasty Pudding Theatricals, USA
Man of the Year
Awarded
1994
Walk of Fame
Star on the Walk of Fame
Awarded
Motion Picture
External Links
Edit