Cooperative Calligraphy
Comments

0
446pages on
this wiki
"
I hate bottle episodes. They're wall to wall facial expressions and emotional nuance. I might as well sit in a corner with a bucket on my head.
"

–Abed
Cooperative Calligraphy is the eighth episode of the second season of Community. When Annie's pen goes missing, she suspects someone in the study group to be the thief. The group imposes a lockdown, and it is revealed that Abed is keeping a record of the girls' menstrual cycles. Meanwhile, Troy and Abed are itching to go to the Puppy Parade.
In the study room, the study group puts the finishing touches on their latest Anthropology diorama. Jeff brags about a hot date he has when the Dean shows and up announcing a puppy parade happening in the quad later. Shirley offers to assist a recently injured Pierce but he declines as he has a new expensive wheelchair to aid in his mobility. The group starts to leave but are stopped by Annie who is missing her pen. Abed sympathetically offers Annie chocolate while the others assure her they don't have it. Unappeased, Annie again demands to know the pen's whereabouts. Shirley tries to placate her by saying next time everyone will be more respecting of each others property. They all turn to go but stop again when Annie lets out a piercing scream. The group reluctantly conducts a search of the study room but fails to find it.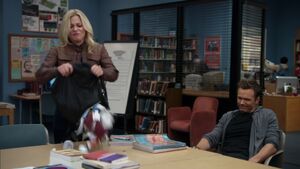 Annie insists one of them has to have it, offering a photo she had taken ten minutes earlier of the pen as proof. It had been on the table and no one had entered or exited the room since. Jeff points out how trivial this is but Annie insists there's a higher principle of trust at stake between beyond just the object in question.
Britta
attempts to leave causing Annie to demand Britta show what's in her bag to prove her innocence. Britta refuses stating that such an act is a violation of her civil liberties. The other study group members apply peer pressure until she caves and angrily dumps the contents of her bag onto the table. When a look at the scattered items reveals no pen, Britta berates the others for their mob mentality. At that moment, Dean Pelton then chimes in on the PA that the puppy parade has started.
Troy and Abed
turn to go, joined by Shirley and Pierce but Britta demands they all empty their bags too.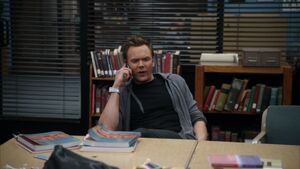 As accusations fly amidst the group as to who the guilty party is, Abed bemoans that the situation is becoming a "
bottle episode
". At Annie's insistence, Jeff tries to bring an end to the matter by offering absolution for the pen thief as long as he/she comes forward and apologizes after the count of three. As he counts down,
Pierce
suggests that Jeff is guilty and the others quickly agree. Incensed at the accusation, Jeff orders a lock down of the study room, and cancels his date over
his phone
. A search of the rest of the study group members' bags is then conducted by
Jeff and Annie
, starting with Troy's. His backpack only has a pillow amusing Jeff who makes a sarcastic note of it. They move on to Abed's bag and are shocked to discover a notebook charting the menstrual cycles of the women in the group. Abed explains their behavior fluctuated wildly making it hard for him to interact with them well.
her bag
to end this. When she refuses, Pierce tricks her, snatches her purse and gets it to Jeff who finds
a pregnancy test
among the contents. Shirley confesses that she "reconnected" with
her ex-husband
 over Labor Day and might be pregnant. Abed disagrees after consulting his charts and points she was ovulating on Halloween, not Labor Day causing Troy's to have an
epiphany
. Shirley tries to leave but is blocked by Pierce who reminds her that nobody goes until the pen is found.
tables
. Even after ending up in their underwear, the study group still fails to find the pen. They believe every possibility has been exhausted until they remember the casts on Pierce's legs
Annie's Boobs
scampers out of the air vent and picks up a spoon. She retreats back into the vents and adds the utensil to her collection of study group related knick-knacks that includes the missing pens.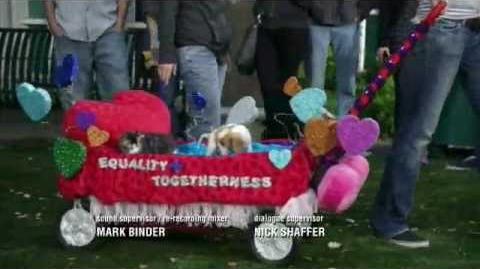 The much talked about Puppy Parade is shown with Dean Pelton emceeing the event. He praises every float except for the last one which has a puppy and cat together and calls for "Equality and Togetherness". He finds it to be too preachy and starts loudly booing it.
Recurring themes
Edit
That just happened:

Pierce is still recovering from injuries he sustained in the previous episode "Aerodynamics of Gender".
Troy remembers Chang's voicemail to him in "Epidemiology" when Abed mentions when Shirley could have conceived a baby according to a notebook he kept which charted her menstrual cycle.
When Britta objects to the possibility that Abed is the thief, other group members remind her of what he did to them in "Contemporary American Poultry".

School supplies:
School uniform: Jeff's striped underwear makes another appearance.
Googly eyes: Jeff and Annie have a very heated exchange and stare-down before they start stripping down to their underwear. Dan Harmon on DVD commentaries for this episode commented that they were probably hot for each other in the scene.
Middle Eastern Magic 8 Ball: Shirley's pregnancy test hints at an upcoming storyline with her ex-husband Andre and Ben Chang.
This must be the place: Excepting the end tag, the entire episode takes place inside of Group Study Room F.
Winger speech: Subverted when Jeff merely supposes, "What if a ghost took the pen?" Troy's ghost story serves the purpose of the usual Winger Speech.
*Special Note: The episode features the second utterance of the word "Beetlejuice". The 1988 Tim Burton film is about a ghost that is summoned after having his name spoken three times. The movie was first mentioned in the Season One episode "Communication Studies" and later in the Season Three episode "Horror Fiction in Seven Spooky Steps" which takes advantage of the previous mentions and gives a brief payoff for the unexpected two year setup.
Deanotation: The Dean says he is "Drive-by-Deaning".
Awww!: The whole study group responds to Dean Pelton's announcement of a Puppy Parade.
NOOOOOO!: Annie loses it when the group tries to walk away before she is able to find her pen.
Raging against the machine: Britta goes off on the police-state conditions Annie has created in the study room.
Annie's Boobs:

The monkey steals Annie's pen to set off the entire chain of events and is revealed to the audience as the culprit at the end of the episode.
Annie shows some cleavage when she takes off her sweater and minutes later when wearing just a bra.

Gasp: Several characters gasp multiple times throughout the episode.
Attention students!: Dean Pelton makes a couple announcements about the Puppy Parade.
Butt stuff:

Troy worries that the thought police will search his butt.
Annie suggests that Jeff has the pen in a certain area of his anatomy and not to relax or it will fall out.

Rhyme time: This is the first instance of intentionally rhyming words with celebrities' names.
Fan service: The entire group strips down to their underwear.
WWBJD: Shirley questions the morals of the other group members several times. However, her own morality is questioned by Britta when it's revealed that Shirley slept with Andre who is now married to someone else.
Use your allusion: Troy's ghost theory is inspired by Paranormal Activity.
IRL: During Season One and the beginning of Season Two, Dan Harmon had been exchanging a war of words on his twitter account with a user named "Gwynnifer" over her criticisms of the show. He ended up using her account name in this episode as the name of Jeff's date. In the Community The Complete Second Season DVD commentaries for this episode he mentions this bit of trivia and also suggests that within the story "Gwynnifer" is Jeff's code name for Britta.
Up against the wall: Jeff directly states that the study group is doing a bottle episode. Abed wonders why Jeff can't "just make an inspiring Winger Speech about trust, throw in a few digs at an easy celebrity target and put a ribbon on this thing."
Homage: The entire episode follows the convention of a bottle episode and/or locked room mystery.
"I want to see if those wiener dogs are born that way, or if they start off normal, and then get wiener."— Troy
"If anything, this chair makes me more than human. You move it by blowing into this tube here. It's the most expensive one. I outbid three hospitals for this baby and it was worth every penny."— Pierce
"Accidents don't just happen over and over and over again, okay? This isn't budget daycare."— Annie
"Attention students, the Puppy Parade is starting on the quad. Better come quick, with every passing moment these puppies grow older and less deserving of our attention."— Dean Pelton
"Side effects: Verbal dysphasia and octopus loss. I don't see anything on this about memory, Troy."— Pierce
"Gwynnifer. Hi. Yeah, it's me. I can't make it. Well, tell your disappointment to suck it. I'm doing a bottle episode!"— Jeff, on the phone with "Gwynnifer"
"Okay if I could just take this time to share a few words of sarcasm with whoever it is that took this pen. I want to say thank you for doing this to me, for awhile I thought I'd have to suffer through a puppy parade but I much prefer being entombed alive in a mausoleum of emotions I can neither understand nor reciprocate. So whoever you are can I get you anything? Ice cream, best friend medal, anything? Okay, sarcasm over. You're last up Shirley. Dump your comedically huge bag and end this."— Abed