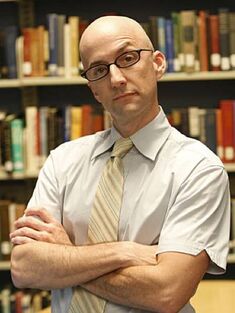 CRAIG PELTON
PORTRAYED BY: Jim Rash
BIRTHDATE: Unknown
HOMETOWN: Denver, Colorado
DEPARTMENT: SCHOOL ADMINISTRATION
POSITION: DEAN
FIRST APPEARANCE: "Pilot"
QUOTE: "I have always dreamt of playing charades with you, Jeffrey. Just not like this. And not on dry land."
- Dean Pelton, "Conspiracy Theories and Interior Design"

Craig has been an educator for 10 years, with four of those years being dean at Greendale. All of the previous schools he has worked at are no longer in existence. ("Basic Rocket Science") Since his first day at Greendale, enrollment has grown 25%. He can proudly walk backwards through campus and give his "Pelton Greendale Tour." He likes to write speeches and perform them for the students. ("Pilot") He is responsible for changing the school's team name from "The Greendale Grizzlies" to the "Greendale Human Beings." Dean Pelton spends a lot of his time trying to improve the school, so that people won't think of it as a lesser college compared to larger colleges and universities, though many of these attempts prove misguided. He has had multiple interactions with Jeff and the study group over the course of the series. Annie has assisted him with numerous on-campus activities, and Pierce worked alongside the dean to create the Greendale mascot, the Greendale Human Being. Dean Pelton also teaches a class on PA announcing; a student in the spring 2011 semester was named Manuel.
Personal life
Edit
The Dean is shown to be a very upbeat and overall cheerful person. He enjoys interacting with his students and attempts to get them more involved in school functions. The Dean's unusual sex life is a recurring joke on the series and often involves cross dressing or animal costumes. He has developed a particular fondness for Jeff and often flirts with him, though this is unrequited. Starting in Season Two, a running gag has him wearing outlandish costumes whenever he makes an announcement to the study group (see main article Dean Pelton's outfits). The Dean is always revealed to be Pansexual, as said in Biology 101 (Episode 1, Season 3).
Craig's influences include Dean Will Anderson, Boz Scaggs, and the "spell check" function. ("[[1]]")
Craig currently lives with at least one roommate - his Saint Bernard named Agatha Christie. ("[[2]]")
He has some kind of attraction to dalmatians, as he is seen dancing with a person in a dalmatian suit in the episode "Pascal's Triangle Revisited". In an earlier episode we see him looking at a YouTube clip of a dalmatian man and saying, "I hope this doesn't awaken anything in me."  Additionally, he wears a dalmatian-styled vest, and a large dalmatian stuffed animal can be seen inside the closet in his office during "A Fistful of Paintballs".  During "Contemporary Impressionists" A dalmatian toy can be seen on his desk, as well as numerous portraits of dalmatians on the wall behind him.