Crazy Schmidt
Comments

0
506pages on
this wiki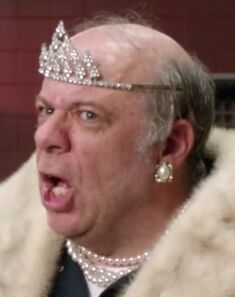 CRAZY SHMIDT
PORTRAYED BY: EDDIE PEPITONE
BIRTHDATE: UNKNOWN
HOMETOWN: UNKNOWN
DEPARTMENT: CUSTODIAL
POSITION: JANITOR
FIRST APPEARANCE: "Competitive Ecology"
QUOTE: "Homewrecker!"
- Crazy Schmidt, 'Competitive Ecology"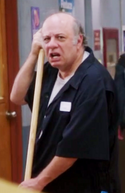 Along with
Jerry
,
Crazy Schmidt
is a member of
Greendale Community College
's custodial staff. A somewhat unbalanced middle aged man, he seems to be a romantic at heart. Unfortunately, this has caused him to misunderstand other people's intentions, and he will often fall in love with the wrong person or even the wrong wooden mannequin leg. His first appearance was in the
Season Three
episode "
Competitive Ecology
" and he was also featured in "
Basic Lupine Urology
. He is portrayed by veteran comedian/actor
Eddie Pepiton
.
Character history
Edit
Crazy Schmidt was first briefly introduced in the episode "Competitive Ecology" as someone with a grudge against Sgt. Chang. Chang was thanking Dean Pelton for his generosity in allowing him to stay in a room at Greendale for free behind the school coffee bar, "Hot & Brown". He also mentioned that he is now in a relationship with someone he met at school, Veronica, a wooden mannequin leg. While sweeping the hallway, a passing Schmidt overheard their conversation and angrily called Chang a home wrecker, implying he and Veronica had been involved before Chang stole her away from him. Later in Season Three, in the episode "Basic Lupine Urology", he and Jerry are cleaning the Biology lab. He is lamenting to Jerry about not being able to see his dental hygienist again whom he describes in romantic overtones. Jerry suggests that he stop hitting on her, revealing that Schmidt had made unwanted advances that ended their "relationship". Schmidt makes a weird claim that she was actually hitting on him. Jerry then makes a horrible discovery which ends their conversation. He calls Schmidt over, and they both look upon the mangled remains of the study group's Biology 101 yam project.
"I'm married to the job...and to a mannequin leg I found in the boiler room."— Ben Chang
"Homewrecker!"— Crazy Schmidt
"She was perfect. Warm, smart, beautiful...I'm never going to find another dental hygienist like that again."— Crazy Schmidt
"Well, you should stop hitting on her."— Jerry
"Hey, she's the one putting her hands in my mouth."— Crazy Schmidt