Ad blocker interference detected!
Wikia is a free-to-use site that makes money from advertising. We have a modified experience for viewers using ad blockers

Wikia is not accessible if you've made further modifications. Remove the custom ad blocker rule(s) and the page will load as expected.

In the study group's fifth year at Greendale, the school held a grand re-opening party for the "Shirley's Sandwiches" eatery which had just been remodeled. After the ribbon cutting portion of the ceremony was done, the owner Shirley Bennett had her children Elijah and Jordan perform the song "Creep" a cappella. As they sang, the campus menace known only as the "Ass Crack Bandit" resurfaced and assaulted Garrett Lambert. The song is first heard in the Season Five episode "Basic Intergluteal Numismatics".
The original song with lyrics
Edit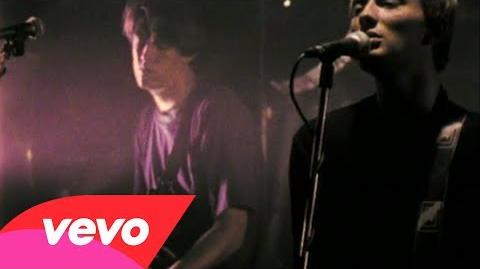 Lyrics
When you were here before
Couldn't look you in the eye
You're just like an angel
Your skin makes me cry
You float like a feather
In a beautiful world
I wish I was special
You're so very special

But I'm a creep
I'm a weirdo
What the hell am I doing here?
I don't belong here

I don't care if it hurts
I want to have control
I want a perfect body
I want a perfect soul
I want you to notice when I'm not around
You're so very special
I wish I was special

But I'm a creep
I'm a weirdo
What the hell am I doing here?
I don't belong here

She's running out the door
She's running out
She runs runs runs runs..
Runs...

Whatever makes you happy
Whatever you want
You're so very special
I wish I was special

But I'm a creep
I'm a weirdo
What the hell am I doing here?
I don't belong here
The episode "Basic Intergluteal Numismatics" is an homage to director David Fincher haunting directorial style as seen in films like his 1995 thriller "Seven" and the 2007 movie "Zodiac". The use of the song "Creep" in the episode references another of his films, the 2010 film "The Social Network". The trailer for the film featured a cover version of the song "Creep" as performed by the Vega Chior.




02:28

The Social Network - The Facebook Movie trailer US Creep by Radiohead - Scala - Golden Globes