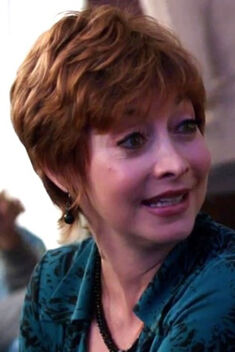 DOREEN
PORTRAYED BY: SHARON LAWRENCE
AGE / BIRTHDATE: UNKNOWN
HOMETOWN: DENVER, COLORADO
MAJOR: MARKETING
OCCUPATION: ESCORT
FIRST APPEARANCE: "The Politics of Human Sexuality"
QUOTE: "We're through, Pierce. I'm gonna go to the bar and you can join me if you'd like and we can still have a lovely evening. But it will cost you two-hundred bucks."
- Doreen, "The Politics of Human Sexuality"
| | | |
| --- | --- | --- |
| | | Doreen is a student at Greendale Community College. She works as an escort and attends Pierce's marketing class. Doreen is an older student with a mature and sophisticated manner. She is introduced as Pierce's latest girlfriend and presented as a counterpoint to Jeff's date for the STD fair Sabrina. Doreen appears in the Season One episode "The Politics of Human Sexuality". Doreen is portrayed by actress Sharon Lawrence. |
Character History
Edit
While sitting around the study table, Pierce tells Jeff that he has a new girlfriend, a woman from his marketing class. The rest of the group arrives and he reveals that Doreen works as an escort but insists that their relationship is unrelated to her profession. Later, Pierce taunts Jeff for showing up at the STD Fair without a date. Jeff quickly hooks up with Sabrina, a girl he met earlier, and Pierce introduces them to Doreen and they begin an awkward double date.
Doreen defies Jeff's expectations of an escort, showing class and intelligence while Sabrina behaves immaturely. Doreen says that as a man gets older he need a woman who shares his interests and can carry on a real conversation. She points out that Sabrina doesn't suit Jeff at all. After Jeff leaves with Sabrina, Doreen gets fed up with Pierce's oafish and inconsiderate behavior. She tells him that their date is over but Pierce can continue their evening by hiring her as an escort. Pierce borrows the money from Jeff and is seen in the background as he leaves the Fair with her.
In the Season Two episode "Critical Film Studies", it's revealed that Jeff's mom is named Doreen as well. This isn't the first time a name has been recycled on the show, other instances include Joshua the groundskeeper with Joshua from The Changlourious Basterds and Toby the pizza guy with Toby the Spanish student and Toby the fanboy for the upcoming Season Four.
"Despite what most people think, I actually spend most of my time talking."— Doreen
"Sabrina's cute but she thinks that Monty Python is the evil snake from Harry Potter."— Doreen