Eric Wisniewski
Comments

0
506pages on
this wiki
Redirected from Eric

Condom water balloon fight!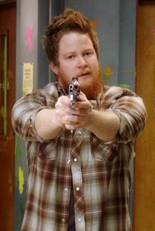 Eric
Wisniewski
is the token ginger at
Greendale Community College
who plays defensive end for the
Greendale Football Team
. A bit of a pervert, he is often seen ogling women on campus. He appears to be friends with
Mark Millot
from the
The Greendale Gooffaws
. According to his
GCC Campus Connect page
, he is a huge fan of the
Denver Broncos
. His first appearance was in the
Season One
episode "
Football, Feminism and You
". He is portrayed by actor
Bill Parks
.
At Greendale
Edit
Football, Feminism and You
" as a member of Greendale's football team. His excitement at the pep rally announcing Troy as the team's new quarterback is diminished when he overhears Troy insulting the team. He is next seen in the episode "
The Politics of Human Sexuality
" where he tries to start a water balloon fight using the condoms that were being held out at the school's STD fair. He inadvertently discovers that the condoms had holes in them when they begin to leak. He is >later seen in the
Season One
finale "
Pascal's Triangle Revisited
" ogling Slater and even taking a photo of her on his cellphone at Jeff's sarcastic suggestion. In
Season Two
episode "
The Psychology of Letting Go
", he gets annoyed by
Britta
's attempts to raise awareness about an oil spill.
"Messianic Myths and Ancient Peoples"
discussing Abed's Meta Jesus film, which irritates
Shirley
. His last appearance was in the season finale "
For A Few Paintballs More
" during the 2011
paintball assassination game
. After running into
Troy and Abed
who were investigating the truth behind
The Black Rider
, he is eliminated from the paintball competition by
City College Storm Troopers
who had invaded the school.
"When you showed me that field, I knew there was nothing to worry about here. I could just play football for the fun of it. I mean, have you seen these guys?"— Troy
"Dude, we have feelings."— Eric
"Mmm-hmm."— Eric, checking out Slater as she walks away
"You should take a picture. It lasts longer."— Jeff
"Kay."— Eric, taking a photo