Ad blocker interference detected!
Wikia is a free-to-use site that makes money from advertising. We have a modified experience for viewers using ad blockers

Wikia is not accessible if you've made further modifications. Remove the custom ad blocker rule(s) and the page will load as expected.

All Access Pass
Erik Charles Neilsen
Home town:
West Sayville, New York
Occupation:
Actor/Comedian
Work on Community
Title:
Recurring cast
Portrays :
Garrett
Acting debut:
"Social Psychology"
Active on Community:
2009-present

I've done comedy beyond Thunderdome. Passed Thunderdome on the way to the show. Well, it was an unmarked building, but 2 men were entering.
Erik Charles Nielsen is an American actor and stand up comedian. He has played the role of Garrett on Community for the past four seasons. In 2003 he attended Boston University and participated in a talent show held by Inside Edition and was named BU's funniest comedian. He gave up on finishing his Ph.D in English and instead pursued a career in comedy. He honed his act at The Comedy Studio in Cambridge, Massachusetts and later appeared at the 2007 U.S. Comedy Arts Festival in Aspen, Colorado. In 2008, he starred in an online comedy series called "Erik the Librarian" alongside Mindy Kahling ("The Office", "The Mindy Project"). In 2009 he landed a minor role on Community which eventually became the recurring character Garrett. Aside from his stand up gigs, he lists his other jobs to be a "succesful copy editor" on his Twitter account and being employed by Goldstar.com. According to his Facebook page he is married to Veronica Rodrigues-Lima, a Textile and Apparel Graphic Designer. He currently resides in Los Angeles, California.
Appearances on Community
Edit
Stand up comedy videos
Edit
08:59

Erik Charles Nielsen at the Tomorrow Show

08:32

Comedian Erik Charles Nielsen
08:21

Erik Charles Nielsen Stand Up - TOP STORY! WEEKLY

04:08

Erik Charles Nielsen Stand-Up (Donkey Kong, Dating, Etc.)
Erik the Librarian
Edit
Before landing the role of Garret on "Community", Erik Charles Nielson worked his first acting role as the lead in an online four part comedy series series called "Erik the Librarian".
Episode One:"Is Life Worth Living?"Edit
Erik thinks of a new idea for a mystery and finds himself flustered when dealing with a visitor named Mindy to the library Mindy Kaling guest stars.
Episode Two: "What is Death?"Edit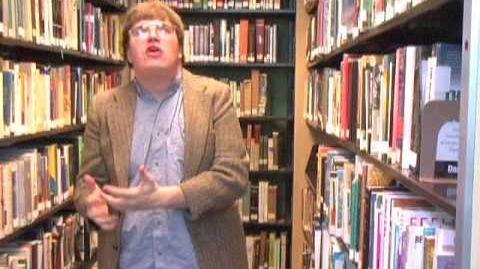 In this episode, Erik struggles with questions of mortality while Mindy sneaks back into the library to retrieve her lost keys and has to deals with the head librarian. Matt Bresser guest stars.
Episode Three:The Secret of Burl IvesEdit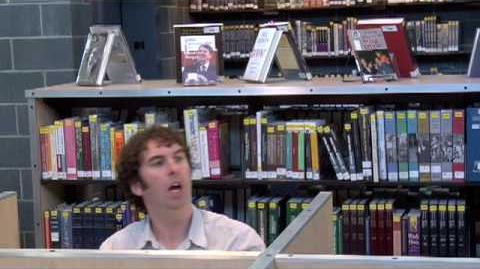 In his continuing quest to win the heart of his one true love Mindy, Erik enlists the help to tap into the power of Music. Matt Braunger guest stars
Episode four:Is this a Dream, Lucifer?Edit
Matt Besser accuses Matt Braunger of book theft, while Mindy again attempts to retrieve her lost keys out of the library's lost and found without Erik the librarian noticing her presence
External links
Edit