Garrett Donovan

Position
Producer, writer
Garrett Donovan is an American television writer and producer. His past work includes writing and producing episodes on the animated series "Family Guy" and eight years on the sitcom "Scrubs". His writing and producing partner is Neil Goldman who he also worked with as a producer on "Community". They served in this capacity between Season One and Season Three. Together they produced 46 episodes of the show as well as co-writing the Season Three premiere "Biology 101". He and Goldman left the show before Season Four started having accepted a developmental deal with the FOX television network.
Community episodes
Edit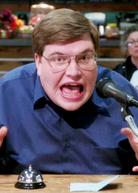 Garrett Donovan once briefly appeared onscreen in the Season Four "Scrubs" episode "My New Game" as the character "Councilman Donovan", a politician constantly arrested for his addiction to crystal meth.
Ad blocker interference detected!
Wikia is a free-to-use site that makes money from advertising. We have a modified experience for viewers using ad blockers

Wikia is not accessible if you've made further modifications. Remove the custom ad blocker rule(s) and the page will load as expected.