Harry Jefferson
Comments

0
449pages on
this wiki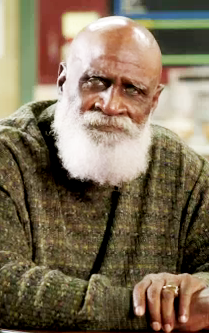 HARRY JEFFERSON
PORTRAYED BY: Wil Garret.
AGE / BIRTHDATE: The 1920's
HOMETOWN: UNKNOWN
MAJOR: UNDECIDED
OCCUPATION: RETIRED
FIRST APPEARANCE: "Digital Exploration of Interior Design"
QUOTE: "New Fluffy Town didn't care who you were. You were surrounded by softness. It was like crawling through a hug. Well, I guess all hugs got to come to an end."
- Harry Jefferson, "Pillows and Blankets"

Harry Jefferson is a very old, possibly the oldest, student at Greendale Community College. He is a stereotypical wise old man who likes to tell people stories in contrast to Leonard, who represents the grumpy, angry old man archetype. He also appears to have very limited vision. His first appearance was in the Season Three episode "Digital Exploration of Interior Design". He later makes a cameo in "Basic Lupine Urology". He is portrayed by actor Wil Garret.
Character history
Edit
Harry is first seen in the cafeteria in the episode "Digital Exploration of Interior Design" when Subway gives him a plate of tater tots. In "Pillows and Blankets", he provides a first hand account of the events that transpired in the war between Abed's Pillow Town and Troy's Blanketsburg. In "Basic Lupine Urology", he makes a brief cameo where he is seen arm wrestling Leonard in the cafeteria in front of a large gathering of other elderly students. Pierce seems to have organized the event as he is seen accepting bets on who will win. Troy and Abed arrive, looking to talk to Pierce about the sabotage of their Biology project. The crowd disperses, and Leonard runs off with the other elderly students, ending the competition. Harry is left behind either unable to follow or just not caring enough to bother trying.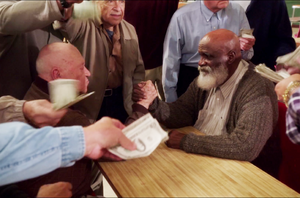 "Is that you, Subway? My eyesight ain't what it used to be."— Harry Jefferson
"These are tater tots, Harry. And for what it's worth, I think you may see more than all of us."— Subway