Finally there's a kid named Abed who makes movies at my community college and to him I leave the task of creating a video tribute of my life.

In their third year at Greendale, the study group and the rest of the campus had to deal with the shocking death of Alex "Star-Burns" Osbourne. His last wishes, according to a will he had delivered to Abed, included that the aspiring filmmaker create a video tribute to his life. At his request, Abed produced a loving video memorial dedicated to him using stock footage of Star-Burns which he left in the video will. The video's first appearance was in the Season Three "Course Listing Unavailable". It's later revealed that Star-Burns faked his death ("Introduction to Finality").
The video with lyrics
Edit
Starburns memorial-0

Lyrics

:

You never see the dawn
when you have blood in your eyes.
The knight will fight with steel
until he brings you down!
Star-Burns!
Burn the night sky alive!
Star-Burns!
Burn for his country and honor!
He will never DIE!
Behind the scenes
Edit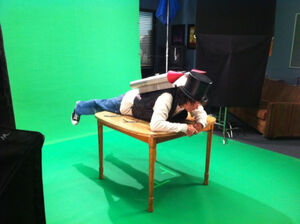 Dino Stamatopoulos
, the actor portraying Star-Burns, was also a writer and consulting producer on "Community". In an interview with Entertainment Weekly (seen
HERE
) he explained why he had suggested his character's death:
"I'm not an actor. I don't enjoy waiting around for hours on set, I hate when people touch my eyes and neck (make-up department!), I can't learn lines quickly (yes, even the amount of lines I get), and I don't need other actors (Joel McHale) asking me why I never got my teeth fixed. There are certain acting roles that I don't mind doing because I'll write them and I'll know how a specific character is supposed to behave. So in those instances, I'm comfortable with performing. The Star-Burns character was basically a conduit for the joke-sideburns and the one-note attitude about not being happy when people called him 'Star-Burns'. I didn't have a character in mind so it's always been an uphill battle for me to perform the part. Yes, he's been given funny lines, and I suppose the writers made him more like me eventually, but playing yourself is very difficult as well. I really don't know how people perceive me. Obviously it's as a scumbag, which is fair because I am, but that doesn't mean I can play one on TV."
He left "Community" after Season Three wrapped and began production on various projects with his stop motion animation company "Starburns Industries".