Ad blocker interference detected!
Wikia is a free-to-use site that makes money from advertising. We have a modified experience for viewers using ad blockers

Wikia is not accessible if you've made further modifications. Remove the custom ad blocker rule(s) and the page will load as expected.

"If I Die before You" is a song featured prominently during the study group's first Valentine's Day dance at Greendale. It plays in the background while Jeff is dealing with the fall out of a misguided drunken voice mail message he sent to Britta. His girlfriend at the time Michelle Slater learned about it via a similar drunk message from him he had sent to her as well. Britta manages to smooth things over between them and Jeff leaves the dance with Slater. He looks back to see Britta and the other students dancing the Electric Slide to the song. It was first heard in the Season One episode "Communication Studies". It was composed by Ludwig Göransson and is track 17 on the Community Soundtrack.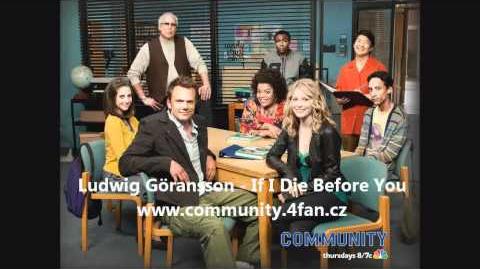 Lyrics
If I fall, would you take my car back?
If I fail with the test, would you know what is best?
Be my friend, be my love
Follow me to get lost, all the time
If I die, will you cry on my eye, little boy?
We could live in a house with two kids
You and me, diamond ring
We would do our own thing
Be my friend, be my love
Follow me to get lost, all the time
If I die, I will lay by your side
Come here, don't think
Don't stop, open up
Believin' in a place where you feel free
It's just another race for you and me
Let's fall in love
If I fall, would you take my car back?
If I fail with the test, would you know what is best?
Be my friend, be my love
Follow me to get lost, all the time
If I die, will you cry on my eye, little boy?
We could live in a house with two kids
You and me, diamond ring
We would do our own thing
Be my friend, be my love
Follow me to get lost, all the time
If I die, I will lay by your side