Ad blocker interference detected!
Wikia is a free-to-use site that makes money from advertising. We have a modified experience for viewers using ad blockers

Wikia is not accessible if you've made further modifications. Remove the custom ad blocker rule(s) and the page will load as expected.
| | |
| --- | --- |
| On his first official day as a Law professor at Greendale, Jeff finds himself unable to adjust to his new teaching position. He goes to his office to settle in and meets one of the teachers he is sharing it with. He introduces himself as Buzz Hickey, the school's Criminology professor. Later in the study room, Jeff arrives to the meeting just as the group finishes admiring their new study table. After seeing a class on actor Nicholas Cage in the school's brochure, Abed proposes that they all take the course. Jeff is eager to take the blow off class but Annie reminds him that he doesn't have the time as he has his own class to teach. Dean Pelton then shows up to hammer that point home by giving Jeff an impromptu teacher make over. Afterwards, the rest of the group attends the Nicholas Cage class which is being taught by the drama professor Sean Garrity. | |
| | |
| --- | --- |
| Abed is intrigued when Garrity states the focus of the course is whether Cage is a good or bad actor. The professor recalls Abed had a similar reaction to a another class he took years ago taught by Professor Sheffield. Garrity assures him that in this case there is no definitive answer to the question he is posing. Over in the cafeteria, Buzz is showing Jeff the ropes of being a teacher at Greendale. Not only can they cut in line to be served first but they can also get away with intimidating students. Buzz demonstrates by bullying Leonard before taking Jeff to see the teachers' lounge where the rest of the faculty is having a party. Pelton tries to join them but Buzz reminds him he isn't allowed and slams the door in his face. Over at Troy, Abed and Annie's apartment, the group are doing their Nicholas Cage homework and watching several of his movies. | |
| | |
| --- | --- |
| Annie takes a break from the assignment to call Jeff and see how he is doing. She overhears the partying going on in the teachers lounge and becomes concerned. The next day, Jeff's finds that Annie has enrolled in his class. When the class is over, Annie berates Jeff for his lack of knowledge on the subject he is supposed to be teaching. She hands him a stack of Law books and insists that he study up as she will be testing him soon to verify that he is qualified to teach. Later that day Jeff has lunch with Buzz who is displeased with the lack of respect Jeff is getting from his student. He advises that Jeff give Annie an "A minus". It's a grade designed specifically to annoy overachieving students like her into dropping a class. Back at Abed's apartment, Troy and Annie are scared when they find the depths to which Abed has gone with his obsession over Nicholas Cage's worth as an actor. | |
| | |
| --- | --- |
| Later in Law class, Annie disagrees with Jeff's class assignment for the day and the two get into a heated debate over it. Jeff manages to win the argument causing Annie to leave in a huff and impressing the other students in the process. Jeff then starts explaining the technique he used to outwit his opponent and begins to actually teach a lesson to his students. Jeff later finds Annie in the student lounge and learns she got an "A minus" from Professor Hickey. Believing her "bad" grade was due to her overextending her schedule she tells Jeff she has to drop his class. Over at the film studies course, an unhinged Abed shows up after having watched too many Nicholas Cage films. He launches into a medley of Cage's performances and acting techniques until finally coming to his senses and leaving the classroom. | |
| | |
| --- | --- |
| Meanwhile, Jeff confronts Buzz over the grade he gave Annie. Buzz states he was fixing a problem but Jeff counters that maybe what should be fixed is the negative attitude the teachers have towards the students. Jeff heads over to the library and explains the situation to Annie who becomes enraged after learning what an "A minus" really means. She reveals the truth to other students in the building which immediately starts a riot. At the same time, Shirley finds Abed in his apartment throwing out all his DVD's. Having long believed that the movies held all the answers he is now having a crisis of faith after seeing how indecipherable Nicholas Cage's talents are. Shirley tells him that not all things can be easily understood and to accept that there are somethings that defy explanation. Abed is convinced when Shirley, a devout Christian, reveals herself to be a fan of the "Hellraiser" movie franchise. Back at school, Annie leads an angry mob of protesters to the cafeteria to demand that the Greendale faculty give them the grades they deserve. | |
| | |
| --- | --- |
| Jeff attempts to mollify the crowd with a speech about how the teachers and students should be united due to their shared mediocrity. He only ends up angering both factions who begin pelting him with food. Afterwards, in the Dean's office, Pelton presents Jeff a plan to ensure harmony on campus between the two sides. He wants Jeff to follow through on his earlier "Save Greendale Committee" idea and form a new teacher/student alliance. Jeff is reluctant at first until Buzz joins them and he apologizes for his part in what happened. He admits he was wrong and made amends by changing all the A-minus grades, including Annie's, to what they should be. Jeff then accepts Pelton's proposal on the the condition that Buzz join him on the new committee along with the rest of the study group. Later at the first meeting of the newly formed organization, Jeff officially bans the Dean from attending. As they eat lunch, Pelton sadly watches the committee from outside the room. While they happily interact, he starts to cry. | |
| | |
| --- | --- |
| Troy and Abed stage an elaborate prank for Jeff in his new office disguising themselves as a potted plant and a leather armchair. Buzz Hickey walks in unaware of their presence and begins arguing with his pharmacist. Troy and Abed are frozen in place as Hickey describes his worsening medical condition, his inability to pay for the drugs to treat it due to his meager salary and how he is now forced to tell his mother that they don't have enough money to pay for his father's burial. A single tear is seen on Troy's face. | |
Recurring themes
Edit
First appearance:

Buzz Hickey debuts in this episode as Annie's Criminology professor.
Table MK II debuts in this episode.
Dave debuts in this episode and later becomes a recurring character in Season Six.

Returning faculty: Sean Garrity returns in this episiode.
Previously: Professor Garrity mentions Abed disproving Professor Sheffield's "Who's the Boss" theory from the Season Two episode Competitive Wine Tasting.
Identity crisis:

Jeff struggles in his new role as a teacher.
Abed has a mental breakdown and starts acting like Nicholas Cage.
After attending Jeff's class for the first time, Annie assumes the role of teacher to Jeff, who then acts like her student.

Replay: Jeff repeats, "I hate her! I hate her!..." after Annie give him homework much like Troy did after ending his date with Mariah in Early 21st Century Romanticism.
Mad skillz: Jeff wins an argument against Annie which impresses his students.
That just happened:
Winger speech: Jeff tries to calm down the angry students with one of his speeches.
Googly eyes: Britta eyes Abed suggestively during the part of his Nicholas Cage breakdown where he proclaims himself to be a "Sexy cat."
School uniform: Abed is seen wearing his green pajamas which were first seen in the Season Two episode "Conspiracy Theories and Interior Design" and last seen in the Season Three episode "Pillows and Blankets".
Middle Eastern Magic 8 ball: The bulletin board in the cafeteria which falls down during the A Minus protest becomes a major plot point in the later episode "Analysis of Cork-based Networking".
Theoretical Phys-Ed: The class Abed takes is called "Nicolas Cage: Good or Bad?".
Express tuition aisle: Annie doesn't like Jeff's lackadaisical teaching methods, but his fellow professors don't mind. Jeff also openly admits to Annie that, having been a fake lawyer, he doesn't actually know law.
Shut up, Leonard!:

Leonard quips, "Hey look! It's the star of 'head of the ass'," to which Jeff responds, "Shut up, Leonard! Nice earring. You look like the road manager for the California Raisins.
Later, Leonard tees Jeff up for another "Shut up, Leonard!" line, but Jeff's new status as teacher prevents him from responding in kind.

Raging against the machine: Garrity interrupts one of Britta's rants.
Mancrush: Dean Pelton repeatedly tries to get Jeff to remove his shirt.
Thrown together: Jeff's attempt to mollify the students' rage results in being pelted with food by students and faculty alike.
WWBJD?: Shirley halfheartedly tries to get Abed to convert to Christianity again.
Nice outfit: In the episode end tag, Troy is wearing a costume designed to make him look like a leather recliner and Abed is wearing a costume designed to make him look like a potted plant.
Use your allusion:

Leonard's jibe at Jeff, "head of the ass," is a play on the show title, Head of the Class.
The chalkboard in Garrity's classroom says "Always Be Cageing" a reference to the famous line "Always Be Closing" from the play and film Glengary Glenross.

Up against the wall: Jeff's office number is D-502. "502" is the production number for the episode. The chalkboard in the study room, as it so often does, displays the production number in the top right corner. The markerboard in the study room and the chalkboard in Professor Garrity's classroom also display the production number.
Everyone's a critic: Britta's statement about the lack of Asian-American's in the study group/committee and subsequent hesitance to take a course of action is probably a nod to the fact that the study group, while ethnically diverse, doesn't have Asian-American (or Latin-American) members. The demographical makeup of the group has been discussed in commentaries by the show's cast and crew.
Resumé: In the credit sequence, Troy is dressed as an armchair. This is a reference to one of Donald Glover's jokes in his "Weirdo" stand-up comedy routine in which he mentions getting raped by a man dressed up as a chair.
Production
Edit
Production for this episode used the title "Gone in 60 Hats" on its clapperboard. This follows the the theme of hat-based puns throughout Season Five's production titles.
Behind the scenes video
Edit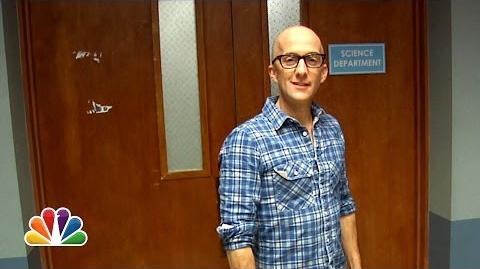 Behind the scenes photos
Edit
Production photos
Edit
"Introduction to Teaching" writer Andy Bobrow posted a few exclusive behind the scenes photos of the episode on his Twitter account:
Danny Pudi (Abed Nadir) tweeted this photo of himself in the costume he wore in the episodes end tag: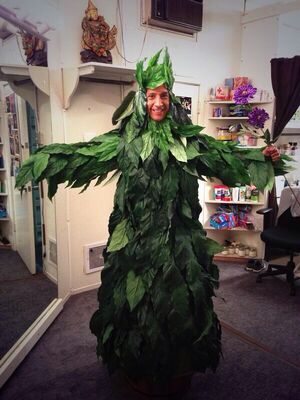 Promotional photos
Edit
"Annie, I don't know law. I wasn't a real lawyer, remember? I can't just pretend I'm teaching. I'm not Mythbusters."— Jeff
"There's a course on Nicholas Cage but if you mention Jesus to your science teacher you get a written warning."— Shirley
"Okay, so, break into groups and then you guys quiz each other."— Jeff
"Mr. Winger, is that really the best use of our time? Seems like the value of having you here is..."— Annie
"I think my value as a teacher is to teach you how to learn."— Jeff
"I think you're telling us we should teach ourselves."— Annie
"I don't think you're going to learn if I tell you how to think."— Jeff
"I think if you tell us what you think then we'll learn that."— Annie
"I thought you should break into groups. But you failed to learn that so your theory's invalid."— Jeff
"Minuses are made up!"— Annie, yelling to the other students
"It's riot time!"— Fat Neil
"Bring me their heads!"— Garrett
"POP POP!"— Magnitude
"I know that it's unrealistic to think that we can eliminate riots completely, but I have been crunching the numbers and I believe we can reduce them by 40%."— Dean Pelton
In this episode, we see Jeff writing with his right hand as Dean Pelton attends to his future class. However, as we have seen it in the pilot, Jeff was left-handed.
External links
Edit