LeVar Burton is an American televison and film actor best known for his roles in "Roots" as the slave "Kunta Kinte" and "Star Trek the Next Generation" as the Starship Enterprise's Chief engineer "Geordi LaForge". He is also known for his time as host of the PBS chilfdren's program "Reading Rainbow". He is an idol to Troy whom Pierce hires in order to mess with the younger study group members mind. His first appearance was in the Season Two episode "Intermediate Documentary Filmmaking" . He is portrayed by himself.
Character history
Edit
study group
's second year together at
Greendale
, Pierce suffers from an overdose of prescription painkillers he was using to overcome a
recent injury
. He recovers but decides to use his stay at the hospital as an opportunity to get revenge on the study group for disrespecting him and excluding him from group activities all year. Pretending he is on his death bed, he starts bequeathing parting gifts, each one specifically designed to mess with them. Aware that Troy is a huge fan of
LeVar Burton
, he hires the actor to meet with him knowing how he would react. LeVar arrives at the hospital where he meets Jeff who directs him to Troy in the waiting room. Star struck, Troy immediately freezes and can do nothing but stare at the actor unable to say or do anything in the presence of his idol.
"You can't disappoint a photograph!"
. The star tries his best to talk to Troy but is unable to break through the catatonic state he is trapped in. He considers leaving as Britta tries to convince him otherwise going so far as to offer him all the money in her bank account. Burton politely declines the gesture and decides to stay impressed with her show of friendship but criticizes Britta for being stupid with her money. LeVar later has a private dinner with Troy in
Group Study Room F
shown in the episode's
end tag
.Burton again tries his best to connect with his biggest fan but Troy remains unresponsive simply staring at him.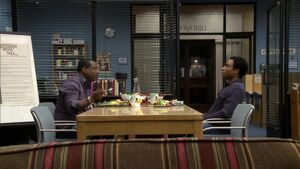 He asks Troy to pass the salt but gets another non-response and grabs it himself. LeVar then starts to sing the
"Reading Rainbow"
theme song which causes Troy to break down and start crying. He flees from the study room screaming causing a nonplussed Burton to continue eating dinner even grabbing a few more portions of food off of Troy's now abandoned plate. In
Season Three
, Pierce is summoned to a reading of his
recently departed
father
's will. He is told by the
executor of the estate
to bring seven of his closest friends with him but comes up short by one when he brings the six other members of the study group. When this is pointed out to him by Abed, Pierce claims that he could have brought seventh person because "LeVar Burton was a maybe".
"More fish for Kunta!"— LeVar Burton