Mike is a student at Greendale who is seemingly obsessed with working out. He has a tendency to be belligerent and likes to pick on and intimidate people. His appearance is notable for the thick mustache he sports along with his penchant for wearing hoodies with cut off sleeves, fingerless weight gloves, and a weight belt. According to him, his life is a gym, and he is the leader of a group of similarly minded gym rats. His first appearance was in the
Season One
episode "
Comparative Religion
". He later makes a cameo in the
Season Two
episode "
A Fistful of Paintballs
". He is portrayed by actor
Anthony Michael Hall
.
Character history
Edit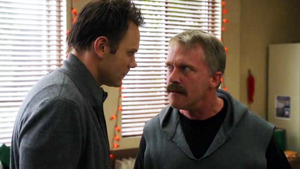 In "
Comparative Religion
", Mike is first seen in the cafeteria along with his gang. Abed had just grabbed the last winter doodle cookies for the rest of the
the study group
which an angry Mike confronts him about.
Jeff
steps in and comes to Abed's defense which causes Mike to turn his ire on him. He tries to pick a fight with Jeff, but the sudden arrival of Dean Pelton causes him to back off. Before he leaves, he gives a warning to Jeff that their dispute isn't over. Later, during the Spanish finals for the semester, he shows up at the classroom to harass Jeff.
Mike begins to taunt him while he's trying to finish the exam. As the final straw, he grabs Jeff's test pages and tosses them to the floor. Fed up with Mike's antics, Jeff challenges him to a fight. Although Jeff has never been in an actual fight, he's not too concerned about the upcoming showdown; this changes when Mike demonstrates to Jeff how crazy he is by stapling a paper snowman to his forehead. When they finally meet up for the fight, Jeff experiences a change of heart and decides to back out, wanting to honor Shirley's beliefs about there being no violence during the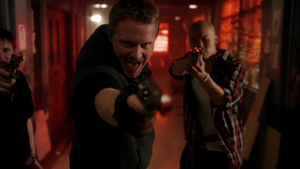 holidays. Mike then sucker punches him just as the study group arrives to support Jeff. Assuming that they've come to back Jeff up, Mike orders his crew to attack them all, and a big fight ensues. It spills out into the quad where a large holiday display is set up as the two groups go at it. Mike throws a punch at Jeff but misses and ends up injuring his hand. Seizing the opportunity, Jeff knocks out Mike as the rest of the study group subdues his gang.
Mike and his gang are later seen in the Season Two episode "A Fistful of Paintballs" participating in the second paintball contest at Greendale, hunting down Fat Neil. After cornering Neil, they begin to taunt him but are interrupted by Annie who quickly guns them all down.
"Give me a winter doodle!"— Mike wants Abed to give him a cookie.
"Oh, you're funny. You're a funny man. Wanna hear something funny, funny man? Knock, knock...My fist up your balls!"— Mike
"You're just like this school. You're obnoxious, you're cramping my style, and you smell like french fry oil!"— Jeff
"I..DON'T...GET... IT!"— Mike
"Dude, my life is a gym!"— Mike the bully philosopher
Anthony Michael Hall starred with Chevy Chase in the 1983 movie "National Lampoon's Vacation". He played Rusty, the son of Chevy's character Clark Griswald. The comedy was written by John Hughes who the Pilot of "Community" was dedicated to shortly after his death. Dan Harmon has cited his work as being an influence on the show and referenced a few of his movies in various episodes. Anthony Michael Hall did not reprise the role for any of the later "Vacation" movies; the part of Rusty, as well as his sister Audrey, would be recast in every sequel. A meta reference was made about this by Clark Griswald in "Vegas Vacation" when he told his children he didn't recognize them anymore.