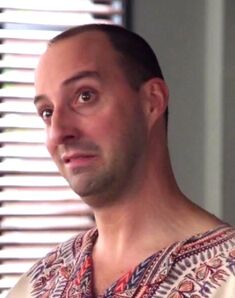 MARIAN HOLLY
PORTRAYED BY: TONY HALE
BIRTHDATE: UNKNOWN
HOMETOWN: GREEN MOUNTAIN, COLORADO
DEPARTMENT: FINE ARTS
POSITION: POTTERY TEACHER
FIRST APPEARANCE: "Beginner Pottery"
QUOTE: "If you so much as hum three notes from that Righteous Brothers song, I will come at you with everything I've got. Okay?"
- Professor Holly, "Beginner Pottery"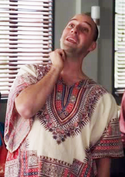 Professor Marian Holly
is the Greendale pottery teacher. He was always seen wearing a dashiki and, for the most part, possessing an easy going and friendly manner. He was kind instructor who liked to call his students
"My precious little blueberries"
but had one particular sore spot. It was behavior he warned his class before hand that could not ever tolerated or forgiven, these egregious actions were so heinous that it sent him into a rage every time it happened. Marian Holly's first and so far only appearance was in "
Beginner Pottery
". He was portrayed by actor
Tony Hale
.
Character history
Edit
Although Professor Holly is the instructor of what even he admits is an easy class, he takes it very seriously. The one rule he has that must never be broken is that no one recreate the pottery scene from "Ghost." In his 2010 spring Pottery class, his latest batch of students included Jeff Winger, Abed Nadir, Annie Edison and Rich Stephenson. He, along with the rest of the students in attendance, immediately recognized and praised Rich's pottery skills much to Jeff's chagrin. Jeff becomes obsessed with proving Rich is a fraud, and at one point in class accidentally ended up "ghosting" with Rich. This infuriates Holly and he immediately ejects Jeff from class. He taunts Jeff by mentioning that he failed a class so simple even students passing in the hallway get a contact credit. Jeff responds by committing to the "Ghost" theme and singing the Righteous Brothers' song "Unchained Melody", further angering the professor. He rushes at Jeff who runs out the door and locks it behind him. As Holly yells at him from the outside, Jeff continues singing the song as they class watches in disbelief. Later, after a conversation with Pierce, Jeff realizes he went too far. He swallows his pride and apologizes to Holly for his actions and is allowed back in class.
"I will tolerate no reenacting, whether it's ironic or sincere, of the Patrick Swayze/Demi Moore scene in 'Ghost'. Ever since that movie was released in 1989, I have seen every single variation of what I call 'Ghosting'. This can be guy on girl, girl on guy, the hilarious guy on guy, ha, ha, ha... (points at head and makes gunshot noise)"— Professor Holly
External links
Edit