Rabbi Chang is Señor Chang's older brother. they have a strained relationship due to the fact that the Rabbi finds his job as a Spanish teacher ridiculous (likely due to either his ethnicity or his complete lack of Spanish language competency). His first and so far only appearance was in the Season One episode "Basic Genealogy". He is portrayed by Tom Yi.
Character history
Edit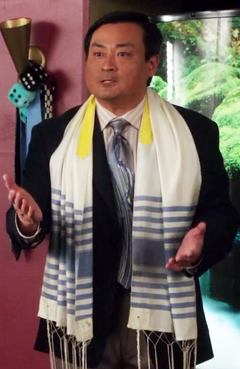 On
Greendale
's special
Family Day Event
, Ben Chang is less then enthused that his brother will be visiting him. Later on the campus quad, a Family day BBQ is held and Rabbi Chang is introduced to
Dean Pelton
by his brother. Rabbi Chang tells him how ridiculous the idea of a Chinese Spanish teacher is.
Señor Chang
tells him that it's who is is and demands he accepts it. Later in the
student lounge
, he and his brother watch
Pierce
's unsuccessful attempt to draw a windmill while playing
Pictionary
. Pierce's sketch ends up resembling a
swastika
illiciting shock from the other players and outrage from Rabbi Chang. He is held back by Ben who assures him that he will take care of it. Sometime later,
Officer Cackowski
is interviewing all the parties involved who witnessed the fight that occurred between
Señor Chang
and Pierce over the drawing. Rabbi Chang is present but it's unclear whether he's proud of his brother for sticking up for his faith or disappointed that he got into a fight.
Several years later
, his brother Ben's career as a teacher was over and he was now working as a Greendale security guard. Rabbi Chang managed to get him a freelance gig working as security for a Bar Mitzvah.
After seeing what looks like Pierce drawing a swastika:
"What are you drawing?!"— Rabbi Chang
"You're supposed to know stupid!"— Pierce