Rich Stephenson
Comment

1
506pages on
this wiki
Redirected from Rich

Who is this kettle corn popping phantom? This human question mark? This number 8 scoop of vanilla tapioca with a PhD in being swell and a Masters in "Everybody loves me!"?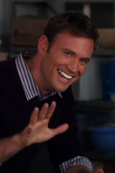 Dr. Rich Stephenson
was a student in pottery class whose impressive skills working the pottery wheel were praised by everyone and envied by Jeff. An accomplished doctor who is friendly and pleasantly outgoing, he is a stark contrast to Jeff's cynical attitude and emotional aloofness. His first appearance was in the
Season One
episode "
Beginner Pottery
". He makes two more appearances in
Season Two
in the episode "
Epidemiology
" and "
Asian Population Studies
". He is portrayed by
Greg Cromer
Character history
Edit
In the study groups first year at Greendale, Jeff enrolled in "Beginner Pottery " believing it would be an easy passing grade. On the first day of class he slacks off unwilling to put any effort into his work. This changes when he notices another student named Rich. He was praised by the teacher , Professor Holly as having a natural talent for pottery making. Rich quickly becomes the most popular student in class due this ability along with his humble and friendly charm. Jeff's competitive side comes out jealous over the attention Rich was getting. Realizing he couldn't beat Rich at pottery making, he faked an injury wearing a bandage on his finger. Rich noticed this when he came to class and offered to take a look.
Jeff mocked him for trying to be a doctor only to learn he actually was one. Rich added nonchalantly that he was a successful one who hadn't lost a patient in five years. He diagnoses the finger as not being sprained which earns him even more enmity from Jeff. Later, Rich is confronted by Jeff in the school parking lot after class is over. He pretends to thank Rich for looking at his finger before launching into a few of questions about his past. Rich became uneasy at Jeffs noseyness feeling that he was being interrogated. Jeff backed off but not before learning that Rich was originally from Santa Fe New Mexico where he did his residency.
During the next day of pottery class, Rich completed another project and finished it off by slapping the sides of the vase. Jeff was watching him and immediatley declared that he was a fraud. Jeff pointed out the move Rich just did was called "Throwing off the hump". It's an advanced technique that a beginner which Rich claimed to be would not know. Rich proclaimed his innocence but Jeff believed him to be pottery master only pretending to be a novice. In prder to prove this, Jeff tried to force Rich to do the move again. He sat behind him and began manipulating his hands on thepottery wheel. Unfortunatley, this act resembled "Ghosting", an homage to the infamous pottery scene from the movie "Ghost".
Professor Holly had banned anyone in class from doing this and angrily told Jeff to leave. In response, Jeff smashed Rich's vase and then started singing "Unchained Melody", another thing syptudents were forbidden from doing. The following day, Rich is working on another project when Jeff shows up. He was allowed back into class as long as he refrained from doing anymore "Ghost" homages. He apologizes to Rich his actions explaining his jealousy got the better of him. Rich graciously tells him not to worry about it and wishes him good luck at keeping his emotions in check. As Rich settles back into working on his vase, he turns grim imagining that he is hearing some harsh words spoken to him from his mother. In his mind she berates him for wasting his time doing pottery and wishes he had died in the rollercoaster accident instead of his brother ("Beginner Pottery").
In the study group's second year at Greendale, Rich attends a Halloween party held in the library dressed in a banana costume. An mysterious epidemic starts to spread at the event and he volunteers to look at a few of the infected. He overhears someone asking for a doctor and is surprised to find Annie and Pierce. He notices Pierce isn't looking well and asks him to sit down. He then starts chatting up Annie impressed by her Little Red Riding Hood costume. Soon, Dean Pelton brings more students to him who are sick. After noting one of the infected has a temperature over 102, Rich suggests it could be food poisoning. Pelton refuses to believe it and tries to convince Rich to rule that possibility out.
As they continue to argue, Star-Burns walks by the infected attendees eager to party when he is attacked by Pierce who bites him on the arm. After gnawing on it for a bit, Pierce runs off leaving Star-Burns and Annie screaming over what just happened. Rich takes in the scene with Pelton and coolly tells him that he has now definitively ruled out food poisoning. Star-Burns starts to develop the same symptoms Pierce had displayed earlier. Annie suggest that since he hasn't eaten the taco meat like pierce then he as probably infected through the bite. Rich concurs impressed with Annie deduction and compliments her for it. Star-Burns then tries to bite them causing Rich and Annie to flee.

They reach Group Study Room F and find Jeff, Britta and Shirley there. Rich warmly greets Jeff who is annoyed at seeing him again. Annie tells the others what just happened and suggests a plan to quietly get the building evacuated. That possibility ends when an infected Leonard bites another student and creates a widespread panic amongst the rest of the party goers. Amidst the chaos that ensues, Rich and the others try to make it to the exit only to find that Dean Pelton has locked everyone inside the building. He tells them that a quarantine has been imposed by the government and the army will show up in six hours to deal with the situation. Rich and the study group then fight their way through infected students back to the study room.

After blocking the doors, everyone settles in and Rich explains what occurred. What happened was a rabies related pathogen affecting the prefrontal cortex of the brain causing hyper aggression. He assures Shirley it is not "End of Days" just yet as such thing would take years to infect the rest of the world. Rich the notes Jeff taking equal care of his suit jacket and comments him on the vertical fold he did when he laid it down. Jeff assumes he is mocking him and tells Rich how much he hates him. Troy then suggested that they start barricading the room. Rich declares that before they do that they should all come clean about if they have been bitten. When no one comes forward they start fortifying the room and Rich discovers that he himself had been bitten on the ankle.
After spending winter break volunteering with Annie, he joins Duncan's anthropology class and unsuccessfully competes against Chang for a spot in the study group. When he turns down a date with Annie due to her young age, Jeff begins to admire his ethics and seeks life-advice from him, although he claims only wants to abuse the power Rich gets from everyone loving him.