All Access Pass
Richard Erdman
Full name:
John Richard Erdman
Birth date:
June 1, 1925
Home town:
Enid, Oklahoma
Occupation:
Actor and film director
Also known for:
Stalag 17
Work on Community
Title:
Recurring Cast member
Portrays :
Leonard Rodriguez
Acting debut:
Advanced Criminal Law
Active on Community:
2009-present

I asked the director, "Who the hell is this guy?" He said he didn't know. So I went and found the writer and asked him, and he said, "We're going to find out in the eighth show." I said, "How should I be playing it until then?" He said, "We haven't decided yet."

Richard Erdman is an American film and television actor and director. He was born John Richard Erdmann in Enid, Oklahoma on the first of June in 1925. Erdman later grew up in Colorado Springs, CO. where his single mom was a cook. A drama teacher at school was so impressed with Erdman's ability he suggested to his mother that she take him to Hollywood. He enrolled in Hollywood High School while his mother got another job as a cook. Erdman was signed to a contract at Warner Bros. by Michael Curtiz, the Oscar-winning director of "Casablanca". Not long afterwards, he made his screen debut playing an uncredited role in 1944's "Mr. Skeffington". In a career that eventually spanned seven decades, Erdman is best remembered for two films — Robert Parrish's 1951 film noir, "Cry Danger" and in Billy Wilder's 1953 World War II classic "Stalag 17". He was married to Leza Holland from 1948 to 1950. After the divorce he married Sharon Randall in 1953. They had one daughter named Erica, who was born a year later. She became a poet and illustrator and died in 2010 of an accidental overdose of prescription medication. Erdman currently portrays Leonard on the NBC show "Community".
Interview with The Film Noir Foundation's Alan K. Rode
Edit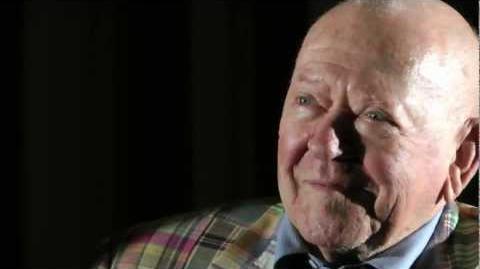 Richard Erdman on:
Dick Powell & Bill Bowers
Cry Danger anecdotes
"Dirty" Jay Adler
Breaking into Hollywood
The Warner Bros university
Part Two:
Edit
Richard Erdman on:
Working with Raoul Walsh
Chinese food with Errol Flynn
The day WWII ended
Friendship with James Cagney
Part Three
Edit
Richard Erdman on:
Marlon Brando
Billy Wilder and Stalag 17
Still working on Community
Dissecting the Dick Van Dyke show
External links
Edit
Ad blocker interference detected!
Wikia is a free-to-use site that makes money from advertising. We have a modified experience for viewers using ad blockers

Wikia is not accessible if you've made further modifications. Remove the custom ad blocker rule(s) and the page will load as expected.