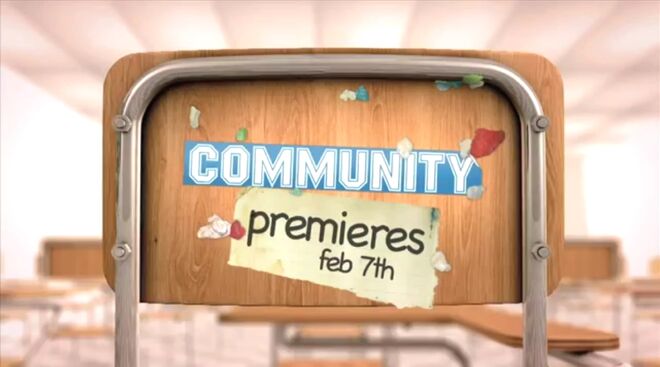 "
We're not going to screw it up
"

–Moses Port, Comic Con 2012
On Thursday May 10, 2012
Community
was renewed for a
fourth season
by
NBC
. As with a few of NBC's other returning comedy shows, the season will be abbreviated consisting of only 13 episodes. On May 18, it was anounced by
Sony Pictures Television
that series creator and showrunner
Dan Harmon
was to be replaced by
Moses Port and David Guarascio
(co-creators of the short-lived
Aliens in America
). Neil Goldman and Garrett Donovan,
Chris McKenna
,
Dino Stamatopoulos
, Anthony Russo, and Joe Russo also left the series. The Season Four premiere was originally meant to be on October 19, 2012 and the show was intended to be moved from the Thursday timeslot to Friday night's before
"Grimm"
. NBC eventually pushed back the premiere date and announced that the show would return on February 7, 2013 at it's original timeslot on Thursday 8:00 EST.
New showrunners
Edit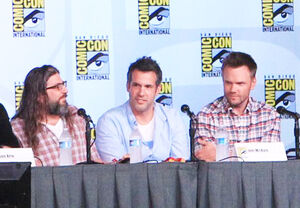 The cast along with the new showrunners
Moses Port and David Guarascio
appeared at the
San Diego Comic Con
convention on July 12, 2012. They addressed fans of the show- as well as the media- who had concerns about the upcoming season. They did their best to reassure everyone they wouldn't "
screw up
", noting that a number of writers (including
Megan Ganz
and
Andy Bobrow
) would be returning, and that the show would remain a
"weird, wonderful gem and that's not going to change
." On October 9, Entertainemnt Weekly posted an
interview with Port and Guarascio
where they reiterated thier intention to remain true to the spirit of the show and also revealed they had talked to
Dan Harmon
. Although he declined to write the
Season Four
finale, Harmon did wish them good luck and told them to
"go for it."
.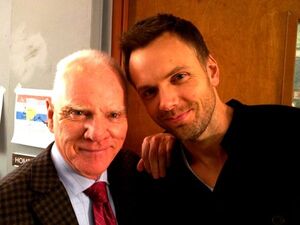 It was anounced that
Malcolm MacDowell
had been cast as
Professor Cornwallis
, the history professor teaching the course.
Michael Ausiello
had previously reported that the
new showrunners
were looking for a "known actor" to play a British professor who used to teach at
Oxford
. The former Ivy league teacher would at first seem out of place working at a community college but would eventually turn out to be just as crazy as everyone else who ends up at
Greendale
. On August 31, 2012 TV Line reported that actress
Tricia Helfer
of
Battlestar Galactica
fame has signed on to play
Lauren
, a superfan of "
Inspector Spacetime
". TV Line reported that the British comedian
Matt Lucas
, best known for his work on the BBC sketch show "
Little Britain
", has been cast as a new friend of
Abed
's called
Toby
.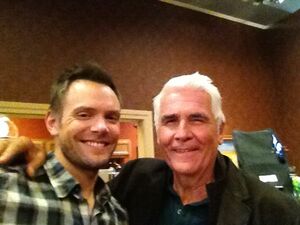 On September 17, 2012,
Community
writer Steve Basilone
tweeted
a picture a script for an episode entitled "
Cooperative Escapism in Familial Relations
". On September 18, 2012, online entertainment news sites
Entertainment Weekly
and
TV Line
both reported that this episode will introduce Jeff's father,
William Winger
, who will be portrayed by actor
James Brolin
. On October 7,
TV Line reported
that actress
Brie Larson
from the recent hit film "
21 Jump Street
" was cast to play an undisclosed role in the seventh episode "
Herstory of Dance
".
Season premiere delay
Edit
Online entertainment newsite Hit Fix
reported on October 8th
that the Season premieres of both
Community
and "Whitney" will be delayed until further notice.
NBC
released this official statement:
"
Given the success we've had for the past four weeks – including winning the first week of the season in A18-49 – we've decided to continue to concentrate our promotional strength on our new NBC shows that are scheduled Monday through Wednesday and have therefore decided to hold COMMUNITY and WHITNEY from their previously announced premieres of October 19th. Without having to launch these comedies on Friday at this time, we can keep our promotion focused on earlier in the week -- plus we will have both comedies in our back pocket if we need to make any schedule changes on those nights. When we have a better idea of viewing patterns in the next few weeks, we will announce new season premieres of WHITNEY and COMMUNITY.
"

–NBC
October 19 video
Edit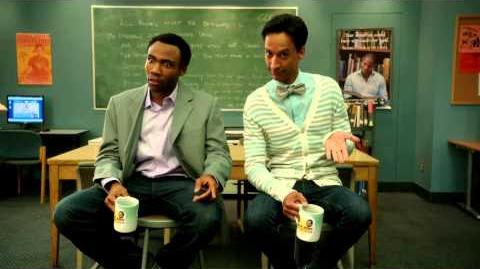 On Friday, October 19, 2012, the day the show was supposed to premiere, a tweet was sent out on
Community's official twitter page
with a link to youtube video. Featuring the entire cast of
Community
, it addressed in a toungue-in-cheek manner the delay of the show and assured fans that it would eventually return at a later date.
Gillian Jacobs
(whose birthday is actually October 19) was credited with the idea for the video by fellow cast member
Yvette Nicole Brown
[1]
.
NBC anounces midseason return
Edit
On October 30th, NBC Yvette Nicole Brown on her twitter acccount broke the news about Community's return by tweeting this message:
"
February 7th is #October19th! Who knew?! :)
"
NBC later made an official announcement reported by various online entertainment news sites from Variety to Entertainment Weekly confirming the news. It's scheduled to return as a midseason replacement in it's regular time slot at 8:00pm EST on Thursday.
Television commercial
Edit