Spanish 101
Comment

1
449pages on
this wiki
"
Conflicts like this will ultimately bring us together as an unlikely family.
"

–Abed
Summary: Jeff's efforts to win over Britta backfire, and he finds himself paired up with Pierce for their Spanish class project.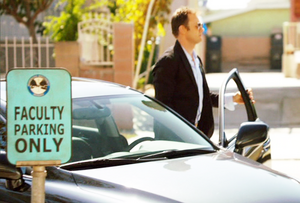 At Greendale, the Dean is making the usual morning announcements as Jeff arrives at school in his
Lexus
. Back in
the study room
, the group is waiting for him before they begin studying. Britta is annoyed at how everyone is fawning over Jeff and says that they should be more worried about injustices taking place all over the world, particularly in Guatemala. When pressed by Shirley and Annie for an example, she tells them about journalists in Guatemala who have been killed by their government for speaking out. Jeff finally shows up for the meeting and manages to charm everyone enough, so that they forgive him for being late. Britta is unamused by his antics and tries to call him out for his tardiness.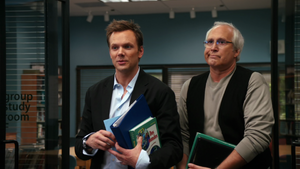 After the study session is over, Jeff tries to smooth things over with Britta. She criticizes him for exploiting the group and calls him a cute but selfish narcissist which only ends up encouraging Jeff. Pierce advises him not to pursue Britta so desperately before making a desperate attempt himself to spend time with Jeff. Outside the
library
, Shirley and Annie ask Britta more about the situation in Guatemala, and she suggests they look up a journalist called Chacata Panecos. She becomes slightly agitated when she overhears their plans for a protest which includes brownies.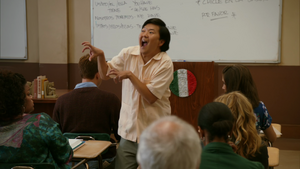 In the
Spanish classroom
, the teacher Señor
Ben Chang
is introducing himself. After a lengthy tirade about why an Asian man is a Spanish teacher, he hands out the new class assignment. The students must pair up, practice a few Spanish phrases in a conversation and then later present it to the class. He divides the class up by giving them each corresponding cards. Jeff asks Abed to switch cards with him after he sees that he is paired up with Britta. Abed agrees, but only if he gets Jeff's shirt. He smugly approaches Britta at the end of class and suggests they have dinner later, believing they are going to be partners. He discovers that she switched her card too, and his partner is actually Pierce.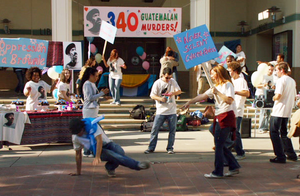 Later in the study room, Jeff and Pierce are supposed to working on their assignment, but Pierce insists on trying to bond with him. Meanwhile, Britta is displeased when she sees the overly flashy protest Shirley and Annie have organized. She calls their efforts "tacky and lame" but gets criticized by Shirley for preaching about injustices but not actually doing anything about them. Britta then apologizes and asks how she can help. Back in the study room, Jeff is becoming frustrated at the lack of progress he and Pierce are making on the project. Troy and Abed show up and inform them of the protest Britta is now involved in. Jeff gets angry at Pierce for having wasted his time and leaves.
Spanish classroom
, Shirley and Annie excitedly tell Britta about how the protest got briefly mentioned in a local newspaper. Jeff arrives and apologizes to Britta for Pierce ruining her protest. She explains that Pierce was only looking to get close to Jeff because he's lonely and sees the study group as an opportunity to be with a family he never had.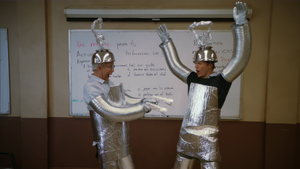 Pierce arrives with Chang who informs Jeff that he will automatically give him a passing grade since the two of them had a falling out. Jeff declines the offer and convinces Pierce to let him help with the presentation they both created.They deliver a very long and elaborate performance that has very little to do with Spanish. When they finish, Chang gives both of them a failing grade. Afterwards, Britta compliments Jeff for his actions but tells him that there's no way any woman in class who saw the presentation could ever think of him as a viable sexual candidate. Undeterred, Jeff sees hope when he notices that as Britta walks away, she looks back at him. Pierce sneaks up behind him and tells him he did a good job. They walk off together as Pierce gives him advice on improving his performance for the next time.
The first end tag of the show, where Troy and Abed perform the Spanish rap.
Recurring Themes
Edit
The theme song of the show "At Least It Was Here" makes its debut.
Señor Chang makes his debut in this episode and eventually becomes a regular featured character.
Jeff and Annie refer to each other as milady and milord, nicknames they later use in various episodes that become more significant as the dynamic of the relationship starts to change between them. It also becomes the inspiration for a live journal fansite dedicated to this particular pairing.
Alex "Star-Burns" Osbourne makes his first appearance.
The show's first end tag debuts with Troy and Abed's "Spanish rap".
Meta references:
Edit
"You're like Jodie Foster or Susan Sarandon: you'd rather keep it real than be likeable."— Annie while asking Britta about Guatemala
"Okay, tell me what I've got so far."— Pierce
"What we have so far? Well, what we have is something incredibly long and very confusing, and a little homophobic. And really, really, specifically, surprisingly, and gratuitously critical of Israel. And it's called Two Conquistadors, should probably be dos. I mean it is Spanish class. Oh, which reminds me, the only thing not included in this epic are the five phrases required to get me a passing grade."— Jeff
"You're right. Needs more work."— Pierce
"Conflicts like this will ultimately bring us together as an unlikely family."— Abed upon seeing Pierce confront Jeff at the protest