Stoner friend
Comments

0
506pages on
this wiki

This supporting character was a Greendale student featured several times throughout the study group's first year at the school. Though at first credited as just "Coffee delivery guy", he is referred to in his last two appearances as "Stoner friend". It's assumed it's the same character just as in the case of Officer Cackowski's first appearance. He is good friends with Vaughn Miller and shares his love of hacky sack and probably (as indicated by his name) recreational drug use. He is portrayed by Matt Jones and his first appearance was in the Season One episode "Introduction to Film".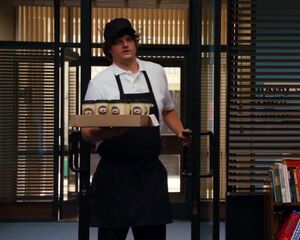 The character known as "Stoner friend" first appeared as a coffee delivery guy who brought several cups of java to the
study group
while they were having lunch in
Group Study Room F
. Both the coffee and the pizza the group was eating had been ordered by
Abed
using
Britta
's money. "Stoner friend" witnesses Britta get angry at Abed for having wasted her money which was meant to be used for school. Unable to deal with Abed, she leaves with Jeff following soon after. Having heard Abed refer to Jeff as his father, The "Stoner friend" asks if that is actually true ("
Introduction to Film
"). Sometime later he seen outside playing hacky sack on the campus quad with
Vaughn Miller
and his other hippie friends. He watches as Vaughn does a spin kick that fails to connect with the hacky sack and results in him doing a face plant on the ground.
The Tranny Dance
". He, along with the rest of the attendees, witness a love triangle unfold involving
Britta
and
Michelle Slater
fighting over
Jeff
. Britta declares her love for Jeff with Slater doing the same.
Professor Whitman
and
Linda Greene
offer their opinion on the matter and tell Jeff to choose Britta. "Stoner friend" strongly disagrees and tells Jeff to choose Slater instead ("
Pascal's Triangle Revisited
"). He has not made any appearances since then.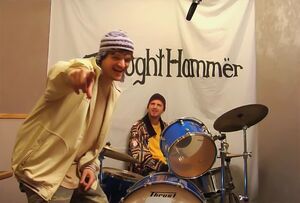 In 2010, Matt L. Jones landed a recurring role on the AMC drama "
Breaking Bad
" He played a character similar to
Stoner friend
who was a meth addict named "
Badger
". Several other actors from "Breaking Bad" have also been a part of
Community
. Actor
Giancarlo Espisito
played drug lord "
Gus Fring
" and also portrayed
Pierce Hawthorne
's half-brother
Gilbert Lawson
in
Season Three
and
Season Four
. Also, actor
Jonathan Banks
( who portrayed ex-cop "
Mike Ehrmantraut
") is playing Criminology professor
Pat Nichols
in
Season Five
of
Community
. .