Subway (person)
Comment

1
506pages on
this wiki

"Eat fresh!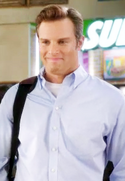 When the cafeteria opens a new Subway franchise to replace its coffee house, a new student known as Subway appears as well. Although he is enrolled at Greendale ostensibly as a representative of the Subway franchise, his main purpose is to circumvent school policy which states that a student has to own 51 percent of any business operating for profit on campus. His first and so far only appearance is in the
Season Three
episode "
Digital Exploration of Interior Design
". He is portrayed by
Travis Schuldt
.
Character history
Edit
Much of Subway's personal history before he became a face for the company was never revealed due to the contract he signed with the sandwich franchise. He stated that after three more years of being Subway (presumably the length of his employment contract), he wants to "run a non-profit shelter for handicapped animals".
"Using a groundbreaking but surprisingly legal process known as corpo-humanization, real people such as myself are now allowed to represent the collective identity of corporate business owners."— Subway