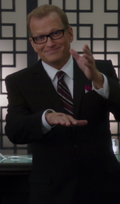 Ted
is (was?) the head of the law firm
Hamish, Hamish & Hamlin
that used to employ
Jeff
before his disbarment. Although affable and self-deprecating, he is known to be a formidable attorney in his own right. Jeff truly respected and admired Ted, and the feeling was shown to be mutual. In the
Season Three
episode "
Introduction to Finality
",
Alan
reveals to Jeff that Ted died while swimming with sharks; it is unclear whether or not this is true considering the source. His first and so far only onscreen appearance was in the
Season Two
episode "
Accounting for Lawyers
". He is portrayed by comedian/actor
Drew Carey

"It's a tiny piece of paper, okay! That's all it is!"
---
This article is a stub and is missing information. You can help Community Wiki by expanding it.