Ad blocker interference detected!
Wikia is a free-to-use site that makes money from advertising. We have a modified experience for viewers using ad blockers

Wikia is not accessible if you've made further modifications. Remove the custom ad blocker rule(s) and the page will load as expected.

Everybody, point your magic Christmas weapons at him!
In their second year at Greendale, Abed had a mental breakdown due to his mother told him she wouldnt be visiting him for Christmas. He imagined the world had become stop motion animated just like the shows he and his mother would watch over the holidays. The Study Group and Professor Ian Duncan tried to help him deal with his delusion by staging an intervention. They work through his problems by indulging his fantasy of traveling to "Planet Abed" and finding the true meaning of Christmas. After they discover the source of his trauma, the study group protects him Duncan who plans on exploiting his pain. While defending him they sing "That's What Christmas Is For".
The song with lyrics
Edit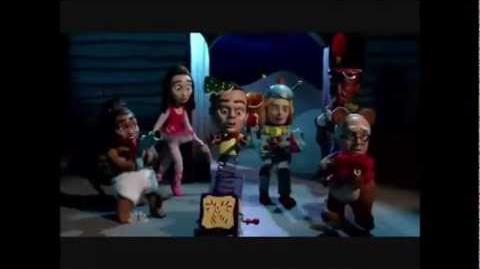 Lyrics
Christmas time is a time to sing
That's what Christmas is for
Christmas can even be a Hanukkah thing
That's what Christmas is for

And for a huge percentage of this God-fearing planet
It's about the birth of Jesus Chri – i -ist
But for the rest of us it's still a good time
To remember that it's good to be nice

Music and cookies and liquor and trees
That's what Christmas is for
Video games for two straight weeks
That's what Christmas is for
Hanging out with the people you love
And saying 'I love you'
That's what Christmas is
That's what Christmas is
That's what Christmas is for