Tim Hobert

Position
Writer, Co-executive producer
First appearance
"Spanish 101"
"
I wanted to get into writing, but I was being used as the guy who cleaned his house, served as a nanny to his kids and made sure his life was running smoothly
"

–Mike Hobert
"
I basically bait-and-switched him. I duped him into becoming another me.
"

–Tim Hobert
Tim Hobert is an American writer and producer who  has worked in the television industry since the late 1990's. He is the middle of five brothers and has worked with his youngest one Michael Hobert on several TV shows. During his time on the NBC sitcom "Scrubs" he worked alongside producers Neil Goldman and Garrett Donovan. He worked with them again on Community where he wrote and produced a number of episodes. He left after Season One and moved on to the ABC sitcom "The Middle". He currently has a number of projects in development with his brother Micheal. He is represented by the United Talent Agency.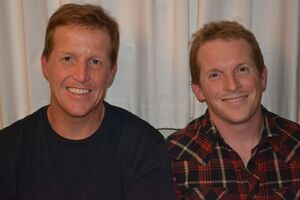 Between 1996 and 2002 he had worked on the
ABC
sitcom
"Spin City"
. He followed this up by with a three year run on
Scrubs
where he worked as an executive producer, co-executive producer, and consulting producer. Afterwards, he worked on the Fox sitcom
"Till Death"
before moving on to spend a year on
"Community"
. He left the show in 2010 at the end of the first year and is currently a working as a producer and writer on the ABC sitcom
"The Middle"
. On October 20, 2011, it was announced that Tim and his brother Mike had sold a semi-autobiographical sitcom to NBC based on their real life working relationship. On September 10, 2012, it was announced on Deadline.com that he and his brother
Michael Hobert
had sold another sitcom to
CBS
Community
Edit
External link
Edit