Todd Jacobson
Comments

0
504pages on
this wiki
Redirected from Todd

Student ID

NO, YOU ZIP IT
UNCLE NOBBY
! I'M NOT FIGHTING YOUR WAR ANYMORE!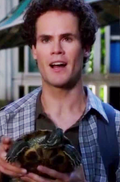 Todd Jacobson
is a highly decorated Iraq War Veteran who is currently a student at
Greendale Community College
. He has a wife and two children, a girl named Ellie and a newborn baby girl. He is attending Greendale because of a promise he made to his deceased father that he would graduate college. When he became the lab partner of
Pierce
his easy going and accommodating nature clashed with the study group's over the top personalities. He is first introduced in the
Season Three
episode "
Competitive Ecology
". he makes a return later in the season in the episode "
Basic Lupine Urology
". He is portrayed by
David Neher
.
Character history
Edit
In the study group's third year at Greendale, they were randomly assigned lab partners for the class they were talking together at the time, Biology 101. Unwilling to work with strangers, they managed to convince the teacher, Professor Marshall Kane, into letting them pair off within the the study group. They then individually "broke up" with their assigned lab partners and Pierce's partner, Todd Jacobson, took no offense aware that he would rather be with his friends. However, Pierce found himself the odd man out after the rest of the group immediately paired off and was forced to keep Todd on as his partner. Todd was later coerced into helping a paranoid Pierce spy on the rest of the study group.
Class history
Edit
Todd Jacobson
Semester
Course
Instructor
Classmates
Fall 2011
Biology 101
Marshall Kane
Abed, Annie, Britta, Jeff, Magnitude, Pierce, Shirley, Star-Burns (kicked out), Troy, Vicky
Spring 2012
Biology
Marshall Kane
Abed, Annie, Britta, Fat Neil (kicked out), Jeff, Magnitude, Pierce, Shirley, Troy, Vicki
Home Economics
unknown
unknown
Weaving with Pine Needles
unknown
unknown
"It's not fair that I should be the only one here saddled with a total waste of space loser! No offense Todd."— Pierce
"None taken."— Todd