Table of Contents:

Danny Pudi and Donald Glover
as Troy and Abed

Troy and Abed are best friends whose bromance has been prominently featured on the show. The other members of the study group are both amused and disturbed at how close the two are. Their many misadventures at Greendale inevitably drag their friends (and sometimes the entire school as well) into the hijinks. Because Abed is unable to adequately express emotion, and Troy is overly emotional, this has lead to a few conflicts between them. They soon make up, however, as they understand they are better together than apart. Troy is played by Donald Glover, and Abed is played by Danny Pudi.
Pairing history
Edit
"

Hola me llamo Abed
Hola me llamo Troy

"

–Abed and Troy demonstrating their Spanish 101 oral assignment
| | |
| --- | --- |
| Abed invites Troy along with other classmates from Spanish 101 to Jeff's study group. Even though Troy finds him odd at first, they start hanging out more. They also partnered up on school assignments together including a Spanish project and a science experiment with a lab rat. They form a friendship that only gets stronger throughout the year until it blossoms into a full blown bromance. Troy even conceded that Abed was the better athlete and referred to him as his "other half". Their relationship prompted Annie to get over her crush on Troy since she couldn't compete with Abed for his affections. When Abed decided to do a college cliché bucket list, Troy eagerly assists him. The pair tried to join a campus fraternity, built a robot and participated in a huge food fight in the cafeteria. At the end of the school year, Troy needed a place to stay after he was told by his father to move out. Troy asked Abed if he could move into his dorm room with him but was refused. Eventually Troy came to understand Abed's reluctance realizing spending too much time together at that point in their relationship could ruin their friendship. Taking Abed's advice, Troy instead accepts Pierce's offer to move into Hawthorne Manor. | |




Troy and Abed in Season One
Significant episodes:
"
Please Mister-Doctor-Psychiatrist-Sir...please don't send my best friend to crazy people jail.
"

–Troy, "Curriculum Unavailable"
| | |
| --- | --- |
| In their third year at Greendale, Troy and Abed finally move in together and eventually ask Annie to join them as well. Each face their own individual challenges during the 2012-2013 semester; Troy is tempted to join an elite secret society while Abed starts to lose touch with reality inside his new playroom. Their friendship is tested when they have a falling out that ends up nearly tearing Greendale's campus apart, they and the rest of the group are expelled from Greendale and after Troy is forced to join the air conditioning school and cut off all ties to his friends and Abed. | |




Troy and Abed on Season Three
Significant episodes:
"
Troy and Abed back from summer!
"

–Troy and Abed, "History 101"
| | |
| --- | --- |
| The duo entered their fourth year at Greendale with Troy in a relationship with Britta and Abed worried about the study group breaking up after Jeff graduates. Troy attempts to alleviate his best friend's anxieties about the future and also tries to make him comfortable with the fact he is now dating. Towards the end of the school year, Abed does the same thing for Troy by helping him work up deal with an issue he's been struggling with but trying desperately to avoid. | |




Troy and Abed in Season Four
Significant episodes:
| | |
| --- | --- |
| Sometime after graduating, Troy and Abed along with the other study group members decide to reenroll at Greendale after Jeff accepts a position there as a teacher. One of the first classes they took was a class on movie star Nicolas Cage taught by Professor Garrity. Troy worries when Abed becomes obsessed with the actor and later witnesses him having a nervous breakdown in class. The two join a new group at school called the "Save Greendale Committee". Later, Troy gets assaulted by the "Ass Crack Bandit" and Abed does his best to comfort his friend. They are both saddened when informed of Pierces death and later attend his funeral with the rest of the study group. When Troy learns Pierces bequeathal to him is his shares of Hawthorne Wipes he accepts the condition that he sail around the world before receiving it. Abed has trouble accepting his friend is leaving but tries to say goodbye through a campus wide game of "Hot Lava". After having one last adventure together, Troy says his goodbye to Abed and the study group. He leaves the campus with his co-captain LeVar Burton on a rig pulling the boat they will be sailing on, the "Childish Tycoon". | |




Troy and Abed in Season Five
Significant episodes:
"

Repilot

": Troy and Abed unexpectedly return to Greendale for what maybe their last time together.

"Introduction to Teaching": Troy is worried about the affect Abed's new media studies class is having in his mental state.


"Basic Intergluteal Numismatics": Abed comforts Troy when he becomes a victim if the "Ass Crack Bandit"


"Cooperative Polygraphy": Abed is saddened when Troy accepts Pierce's challenge to win his fortune, a sailing trip around the world.




"

Geothermal Escapism

": Troy and Abed have one last campus adventure playing a school wide game of "Hot Lava".
Development
Edit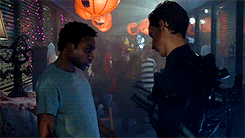 "
What's happened to you and me, Troy?
"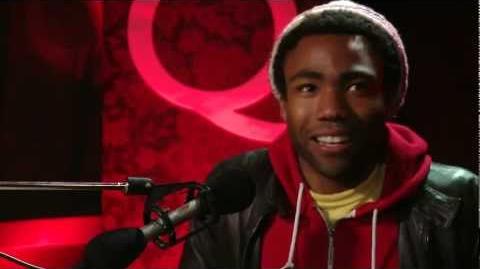 Originally, Abed and Troy were meant to be best friends with other members of the study group. Abed and Jeff were modeled somewhat after the dynamic of Van Wilder and Taj. Troy and Pierce were to be paired off as a Beavis and Butthead type duo. In the Season One DVD commentaries, Dan Harmon mentions seeing Danny Pudi and Donald Glover clicking during press interviews and deciding to partner them onscreen. They have since become a popular pairing on the show and have been featured in most of the episode end tags. In an interview with Studio Q, Donald Glover gives his thoughts on why Troy and Abed work so well and also his opinions on other pairings such as Troy and Pierce, Jeff and Britta and Jeff and Annie.