Troy and Abed
Comments

0
506pages on
this wiki
Troy and Abed
Portrayed by Donald Glover and Danny Pudi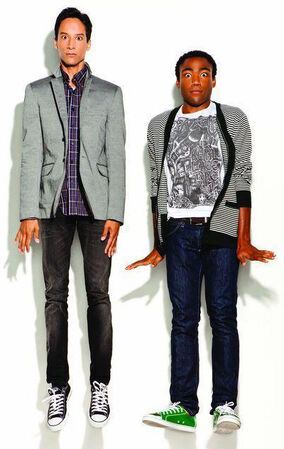 "
You don't hear me saying anything crazy about Abed and Troy's weird little relationship!
"
"
They're just jealous."
"

–Troy and Abed reply in unison, "Romantic Expressionism"
Troy and Abed are best friends whose bromance has been prominently featured on the show. The other members of the study group are both amused and disturbed at how close the two are. Their many misadventures at Greendale inevitably drag their friends (and sometimes the entire school as well) into the hijinks. Because Abed is unable to adequately express emotion, and Troy is overly emotional, this has lead to a few conflicts between them. They soon make up, however, as they understand they are better together than apart. Troy is played by Donald Glover, and Abed is played by Danny Pudi.
Pairing history
Edit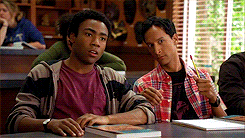 "
Hola me llamo Abed.
"

–Abed
"
Hola me llamo Troy.
"

–Troy, Trobed demonstrating their Spanish 101 oral assignment
Abed invites Troy along with other classmates from Spanish 101 to Jeff's study group. Even though Troy finds him odd at first, they start hanging out more and are often partnered up on school activities together. They form a friendship that only gets stronger throughout the year until it blossoms into a full blown bromance. The relationship prompted Annie to get over her crush on Troy noting that there was no way she'd be able to compete with Abed for his affections. Troy even states that he considers Abed his "other half". At the end of the year, Troy asks Abed if he can move in with him but is hurt when Abed refuses. Taking Abed's advice, he moves in with Pierce instead after realizing they spend too much time together as it is and living together could ruin their friendship. Throughout the season they appeared in most of the show's end tags.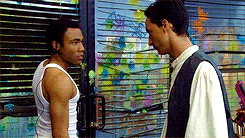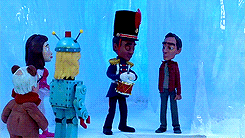 Although Troy resided with Pierce in his mansion during their sophomore year at Greendale, Troy and Abed's friendship still remained strong. The duo officially declared their love for each other after facing a zombie apocalypse on campus, built their first blanket fort on campus, competed for the affections of the school librarian, and teamed up to rally the Greendale students against the evil invaders from City College.
Significant episodes: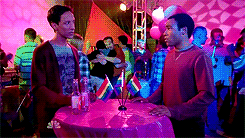 "
Please Mister-Doctor-Psychiatrist-Sir...please don't send my best friend to crazy people jail.
"

–Troy, "Curriculum Unavailable"
In their third year at Greendale, Troy and Abed finally move in together and eventually ask Annie to join them as well. Each face their own individual challenges during the 2012-2013 semester; Troy is tempted to join an elite secret society while Abed starts to lose touch with reality inside his new playroom. Their friendship is tested when they have a falling out that ends up nearly tearing Greendale's campus apart, they and the rest of the group are expelled from Greendale and after Troy is forced to join the air conditioning school and cut off all ties to his friends and Abed.

Significant episodes:
"
Troy and Abed back from summer!
"

–Troy and Abed, "History 101"
The duo entered their fourth year at Greendale with Troy in a relationship with Britta and Abed worried about the study group breaking up after Jeff graduates. Troy attempts to alleviate his best friend's anxieties about the future and also tries to make him comfortable with the fact he is now dating. Towards the end of the school year, Abed does the same thing for Troy by helping him work up deal with an issue he's been struggling with but trying desperately to avoid.
Significant episodes:
History 101
: Troy, along with Britta and Annie, try to reassure Abed on the first day of the study group's last year at Greendale together.
"
Conventions of Space and Time
": Abed meets an online friend named Toby at an "Inspector Spacetime" convention. Britta warns Troy about Toby stealing his best friend away from him.
Development
Edit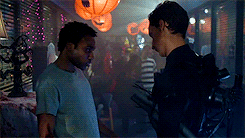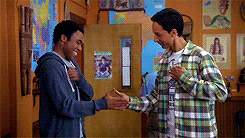 "
What's happened to you and me, Troy?
"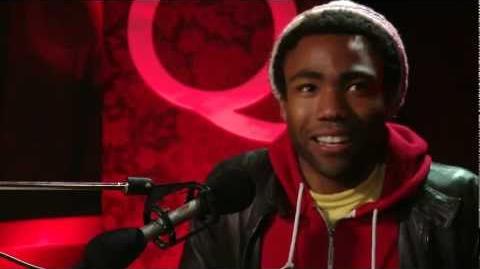 Originally, Abed and Troy were meant to be best friends with other members of the study group. Abed and Jeff were modeled somewhat after the dynamic of Van Wilder and Taj. Troy and Pierce were to be paired off as a Beavis and Butthead type duo. In the Season One DVD commentaries, Dan Harmon mentions seeing Danny Pudi and Donald Glover clicking during press interviews and deciding to partner them onscreen. They have since become a popular pairing on the show and have been featured in most of the episode end tags. In an interview with Studio Q, Donald Glover gives his thoughts on why Troy and Abed work so well and also his opinions on other pairings such as Troy and Pierce, Jeff and Britta and Jeff and Annie.