Visitor Pass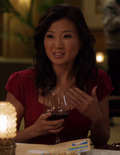 Wu Mei
was introduced as a Chinese student taking a few courses at Greendale in 2010. In one of those classes she ran into
Jeff Winger
and
Pierce Hawthorne
both of whom hit on her. Surprisingly, Pierce won her affections and proposed to her which she eagerly accepted. Unwilling to admit his loss to Pierce, Jeff investigated her and stumbled upon her true intentions regarding Pierce. Wu Mei's first appearance was in the
Season Two
episode "
Competitive Wine Tasting
". She is portrayed by actress
Michelle Krusiec
.}}
Character history
Edit
In the study group's second year together at Greendale, Jeff and Pierce both signed up to take a Wine Tasting class. It a there that they saw Wu Mei who they were immediately attracted to. Jeff made a move on her first but she quickly shot down his attempt to flirt with her. Pierce, however, succeeded in charming her and the two went on a date after class was over. Pierce had such a good time with Wu Mei that he proposed for the eighth time and asked her to be his wife. Wu Mei agreed and the pair went to Group Study Room F to announce their engagements to the study group. His friends were shocked particularly Shirley who was slightly bothered by the age difference. Despite this, she and the study group congratulated the pair. Jeff had some doubt as to Wu Mei's sincerity although his attitude had less to do with concern for his friend and more to do with her having chosen Pierce over him.
"What a lovely name for a lovely-"— Jeff
"Not interested. Please take weird haircut and stupid grin and go sniff another dog's ass."— Wu Mei